ISU CCEE GOLD stands for the Iowa State University Department of Civil, Construction and Environmental Engineering (ISU CCEE) alumni group Graduates Of the Last Decade (GOLD). In the weeks leading up to its annual Zoo Brew at the Blank Park Zoo, ISU CCEE GOLD members will be featured in spotlight segments. ISU CCEE GOLD Zoo Brew will be held on August 16 from 5:30-9:00 p.m. at the Blank Park Zoo in Des Moines, Iowa. REGISTER for ISU CCEE GOLD Zoo Brew by emailing ISU CCEE Outreach Coordinator Jean Dubberke at jeand@iastate.edu.
---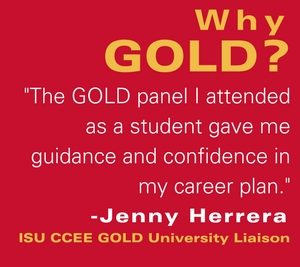 GOLD member: Jenny Herrera
Graduation major and year: B.S. in civil engineering, 2016
Position in GOLD: University liaison
Job title/employer: Project Engineer I at The Weitz Company
Reason you got involved with ISU CCEE GOLD
"I got involved with CCEE GOLD because the GOLD panel I attended as a student gave me guidance and confidence in my career plan at a time when I really wasn't sure where I was going, and I wanted to pass that type of help and advice along to more students. I also love the idea of growing an organization that brings together and fosters relationships between students, faculty, and alumni at all stages of their careers."
Best part of being in ISU CCEE GOLD
"To me, the best part of being in GOLD is having opportunities to grow and help others do the same while having fun at the same time."
Top advice you would give to engineering students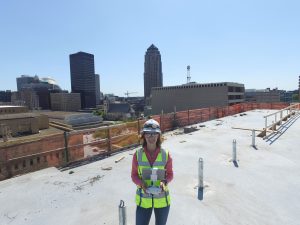 "Don't put yourself in a box – being an engineer can look like a lot of different things, and it's important to find the one that works best for you. Also, don't be afraid to challenge yourself even if it means you might fail. You'll never know what you can do if you don't try."
---
You can find out more about Zoo Brew by visiting our ISU CCEE GOLD Zoo Brew event on Facebook. If you are interested in getting involved with GOLD, contact ISU CCEE Outreach Coordinator Jean Dubberke at jeand@iastate.edu.