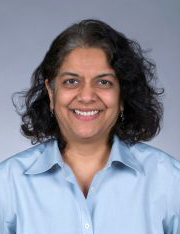 Department of Chemical and Biological Engineering (CBE) faculty member Surya Mallapragada will be sharing her significant research expertise in a new opportunity with Iowa State's Office of the Vice President for Research.
Mallapragada, Anson Marston Distinguished Professor and Carol Vohs Johnson Chair ("Carol's Chair") in Chemical and Biological Engineering, will join that office as a half-time associate vice president for research effective July 1. In her new position she will focus on research advancement, including engagement with research foundations, developing interdisciplinary collaborations, and continuing institutional service in nominating faculty for prestigious awards.
"I am looking forward to working with Vice President for Research Sarah Nusser and her excellent research team to grow the research enterprise at Iowa State," Mallapragada said.
Mallapragada has been part of the CBE faculty since 1996 and served as the department chair from 2009-2013. She has served as a faculty fellow in the Office of the Senior Vice President and Provost since 2015, is a scientist with Iowa State's Ames Laboratory in the Division of Materials Science and Engineering, is a researcher with the university's Nanovaccine Institute and holds a courtesy faculty appointment in the Department of Materials Science and Engineering. Recent honors include being named a fellow in the National Academy of Inventors and WiSE Champion as part of ISU's Program for Women in Science and Engineering.
Read more about her new opportunity in a story posted on the Office of the Vice President for Research web site.