Iowa State's student solar car team is making a big impact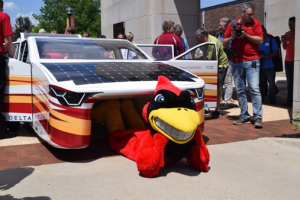 PrISUm's newest solar car, Penumbra, has made a big splash since it was unveiled last week. From the Iowa State Daily and the Ames Tribune to Channel 13 WHO News out of Des Moines, media all around central Iowa have been telling the exciting story of about what PrISUm team has accomplished and what they are planning.
Now, news outlets in places from all around Iowa such as Forest City, Shenandoah and Clay County are buzzing about Penumbra as the it travels through all 99 counties of Iowa during the SunRun 2017. Even a solar car team in Japan retweeted ISU's Mechanical Engineering tweet that presented Penumbra.
PrISUm's annual outreach event, the SunRun, got started on June 2 and will continue this month. The team will attend major events in communities throughout the state, such as a Vintage Car Show in Mason City and the NASCAR Xfinity Series Race in Newton. This year, the team hopes to extend its outreach to 40,000 people during SunRun with the aim of educating and inspiring Iowans about STEM and sustainable energy.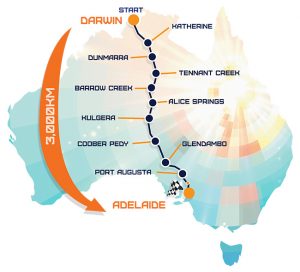 Communities throughout Iowa are undoubtedly and understandably eager to see a high-tech solar car with cool features such as its 15-inch touch screen infotainment system. But for PrISUm, their work is about more than just a car: it's about changing the entire paradigm of transportation and showing the world that the future is now.
So, this fall, PrIUSm is taking their car to the international stage for the first time in team history. PrISUm will enter Penumbra in the Bridgestone World Solar Challenge in Australia, where they will race 3,000 kilometers across the continent against solar car teams from around the globe.
---
Keep up with PrISUm on social media: