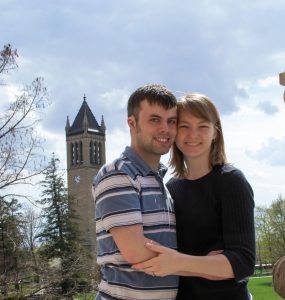 Brittany and Jack Tuohy began their journey together at Iowa State University, while both were earning degrees in computer engineering. Jack first became interested in computers when he built his own PC during his senior year of high school. After his school canceled the only programming course, he started to learn some programming on his own. For Brittany, it took  taking a computer networking class to see that she liked working with computers, but she didn't want to do networking. After being encouraged to try engineering, she took an entry level programming class and loved it.
When it came time to pick a college, Jack was attracted to Iowa State's strong engineering program and the beautiful campus. Despite growing up in a Hawkeye family, Brittany knew she was going to be a computer engineer and was impressed by Iowa State's rich history, including the invention of the Atanasoff-Berry Computer (ABC), which was the world's first electronic digital computer. While they didn't meet until the end of their freshman year in the spring of 2009, Jack recognized Brittany from some classes they had together.
"We were in chemistry class together, so I invited Brittany to eat lunch with me after class. We had several lunches together, but unfortunately, Brittany had forgotten my name and asked halfway through lunch one day," Jack Tuohy said. "Apparently, I didn't leave a very strong first impression."
However, Brittany began to like him the more she got to know him. She said he was fun, charming and very sweet. Thankfully, Jack didn't give up on pursuing her. Since then, they have spent many of life's milestones together.
"Iowa State has the tradition that you aren't a true Iowa Stater until you kiss under the campanile at midnight. We had tried to go campaniling several times, but there was always a couple who beat us there," Brittany said. "On the night of Feb. 13 of our senior year, we were the first couple to claim the spot that night, and Jack proposed under the campanile at midnight."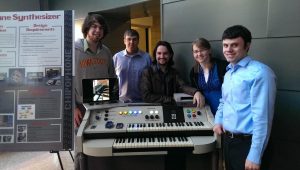 Before getting engaged, Brittany was one of the co-founders of ISU's Game Development Club, which she is happy to see is still strong and growing today. She also enjoyed being a teaching assistant for entry-level programming classes, and she plans to become a professor after a couple more years of professional experience in the field. However, their favorite memory together goes right back to the classroom.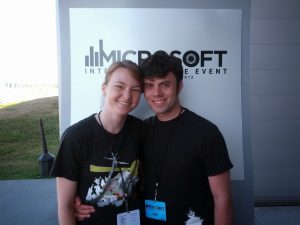 "Through all of college, Jack and I were lab partners almost every semester, and the project we enjoyed the most was senior design," Brittany Tuohy said. "We worked on the chipophone project. It is a synthesizer that plays chiptune sounds similar to what you would hear from a Nintendo Entertainment System. It was a challenging and fun project."
In the summer of 2013, Jack and Brittany both had internships at Microsoft in Washington. Jack was in the Xbox Live Division, and Brittany was working in Microsoft Business Solutions.
"It was a fun summer and very challenging, but we knew we wanted to come back to Minnesota to be closer to family," Brittany said.

Getting back to their last semester of college, Brittany and Jack were planning for their future. While they both had very different philosophies about job hunting, Brittany wanted to have a job secured before they graduated. By November, Brittany had accepted a job at 3M in Minnesota. However, Jack was a little more laid back. He wanted to be patient and find the right job.
"That last semester was a little crazy and super busy with senior design, wedding planning, job interviews and staying on top of all the other coursework," Brittany said. "Somehow we survived."
Through the course of four months, Jack turned down five job offers. This is currently a reality to many recent ISU graduates.
"Don't be afraid to be patient until you find the right fit. Find a place that you are excited to go each morning," Jack said. "Pay attention to the work culture while you are interviewing, and remember that you are also trying to interview the company to see if it is a good fit for you."
Soon enough, Jack accepted an offer at Self Esteem Brands, the parent company of Anytime Fitness, which was named the number one global franchise of 2016 according to the Woodbury Bulletin. Jack works as a software engineer, and about a year ago Brittany joined the team as a software support engineer. To them, it feels like they're lab partners once again.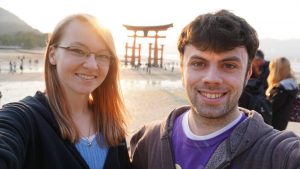 Throughout their lives, they have experienced many accomplishments together. Since middle school, Brittany had always wanted to go to Japan, and last spring that became a reality. They spent two weeks touring Tokyo, Kyoto, Osaka and Hiroshima.
"It was an amazing adventure with delicious food, and we would highly recommend it," Jack said.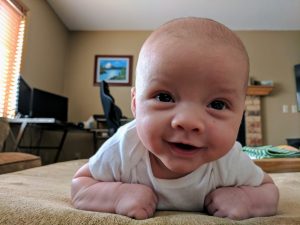 Brittany has also created her own limited liability company (LLC) and works part-time as a computer science tutor.
"My favorite part is helping others learn problem solving tools and strategies so they can become successful developers," Brittany said.
However, their newest accomplishment began in February, when they jumped into the adventure of parenthood with their son Owen. Brittany and Jack hope he grows up to be a Cyclone just like mom and dad.
"He won't be forced into a career of software engineering, but he will definitely learn how to program computers at a young age," Brittany said.
Alumni Advice:
"Software developers are highly sought after. There are local recruiters who want to help you find a job in that city or area. They are a free resource for you, and they do all the hard work of finding jobs for you. They can also help you negotiate for a higher salary, because the more you get paid, the more they get paid." -Jack Tuohy
"Keep close relationships with your classmates. Most companies offer referral bonuses for hiring friends at your company because good talent is so hard to find." -Brittany Tuohy