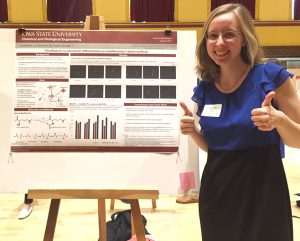 Department of Chemical and Biological Engineering undergraduate and Engineering Honors Program student Catherine Le Denmat has received top honors from the college for her capstone research project presentation. It was selected as best in the program's recent poster symposium, which involves students from different College of Engineering departments.
The award has been given to one student each semester since spring of 2012. Le Denmat, whose faculty mentor is Dr. Kaitlin Bratlie, is the first CBE student to receive the honor. Her project, titled "Fibroblast to myofibroblast differentiation on modified
poly-L-lysine surfaces," deals with developing and testing materials to look at their effect on fibroblast to myofibroblast differentiation. One of its main applications would be in the treatment of Type I diabetes.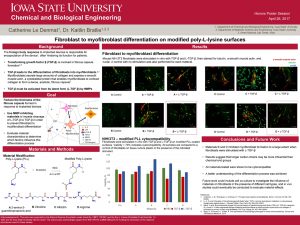 Le Denmat will graduate Summa Cum Laude with a B.S. in chemical engineering this semester. She is also the Department of Chemical and Biological Engineering Lawrence E. Burkhart Outstanding Senior and will address fellow graduates in the department's Pre-Commencement Reception the morning of May 6. She has also served as an ambassador and first-year program leader for the Engineering Honors Program.
Le Denmat poster presentations have also taken first place in national and regional conferences of the American Institute of Chemical Engineers. Following graduation she is set to begin employment with Merck, Inc. in Singapore.
A large, easily-viewed file of her poster is available on the Engineering Honors Program web site here.