Dr. Michael Bartlett, Materials Science and Engineering Assistant Professor, has almost made it through his first academic year as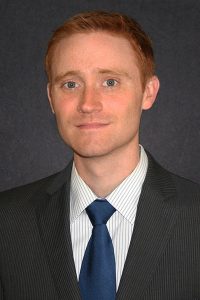 a professor at Iowa State University. He started his career in the Department of Materials Science and Engineering in the fall 2016 semester.
On April 19, 2017, Dr. Bartlett was given affirmation that his first academic year at Iowa State was impactful for many students throughout the College of Engineering. At the Engineering Student Council's annual banquet at Reiman Gardens, he was presented with the student nominated Outstanding Faculty Award for his outstanding teaching to the students of the Department of Materials Science and Engineering. He was the only faculty award recipient.
Student nominations stated:
"I am nominating Dr. Bartlett because of his enthusiasm to help the department and educate students in any way that he can. This is especially appreciated since he is a new professor in the department. When asked if he could help with Material Advantage events, he was enthusiastic about helping."
"Dr. Bartlett is friendly, engaging, understanding, and incredibly helpful. He takes the time to make sure students learn and understand the information taught. He goes above and beyond his responsibilities as a professor outside of the classroom."
"His office hours are always full of students. He makes sure he keeps the class fun and keeps students engaged. It was his first year teaching, yet he took the time to learn everyone's names. He truly is an outstanding professor and member of the department."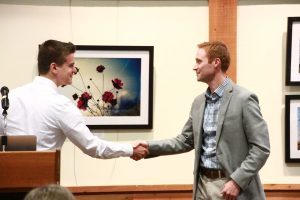 Dr. Bartlett began his career teaching Mat E 418, Mechanical Behavior of Materials, during the fall 2016 semester. He leads the Soft Materials and Structures Lab where his research interests include soft materials, adhesion, bioinspired materials, soft robotics, and electronics. Dr. Bartlett also participated in the Iowa State Research Day on March 21, 2017, where he won first place in the Lightning Talk Presentation. He has participated in student luncheons, assisted with the materials science and engineering student organization Materials Advantage events, and has been an active leader throughout the department.
Dr. Bartlett said, "It is an honor to be recognized by our students with this award.  We have an outstanding student community in the College of Engineering, and I am excited to be a part of their development as future leaders in engineering and science."