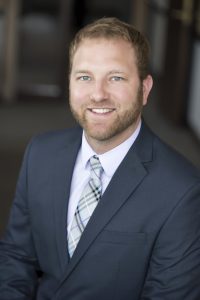 From planning to finished project, Josh Braby (B.S. ConE 2006) knows engineering is best learned by doing
On Tuesday, Engineering News-Record (ENR) and the Architecture-Construction-Engineering (ACE) Mentor Program of America recognized construction engineering alumnus Josh Braby as a 2017 ENR-ACE Outstanding Mentor.
Braby, who is a project manager at Neumann Brothers, Inc. in Des Moines, has been working with the ACE Mentor Program since 2008. Each year, he coaches local high school students through the planning of different projects. In 2016, his groups took on the planning of a seasonal rental facility. Currently, his students are making plans to build a tiny home (that's right, HGTV fans … an actual tiny home) to donate to Joppa Outreach this summer.
"If you have any interest in the construction industry at all, you should try the ACE program," Braby said. "It gives you real-life project experience in a field that you're interested in. It will challenge your mind to think of things outside the norm and push you to think of something never before created."
In an average year, Braby mentors a group of around 50 students from high schools in the Des Moines area. For sixteen weeks, students meet after school to complete real-world engineering projects. They cover design, scheduling, budgeting, and building plans – everything to encourage creative problem-solving.
"I love working with the students and learning from them," Braby said. "It's great to help students understand what the construction industry is like, what great opportunities exist out there."
As a finale, groups present their work at a year-end showcase. Braby says the showcase, which is set up to resemble a professional trade show, attracts as many as 400 people every year.
Larry Cormicle is a senior lecturer at Iowa State University's Department of Civil, Construction and Environmental Engineering (ISU CCEE). He also sits on the ACE Mentor of Central Iowa Board of Directors.
"I have seen the great leadership that Josh Braby has demonstrated in starting and growing the ACE Mentor Program in the Des Moines area over the past decade," Cormicle said. "He is very passionate and committed to this program as he has led the growth of this program for years."
Braby joins a select group of outstanding mentors from across the country. He is one of nearly 2,500 ACE mentors nationwide. Find more information about his mentoring experience by visiting his article, "2017 ACE Year-end Ceremony Celebrates Student Achievements."
---
Interested in outstanding alumni stories? Follow ISU CCEE on Facebook, Twitter, or LinkedIn (Iowa State University Civil, Construction and Environmental Engineering and ISUConE) for more!