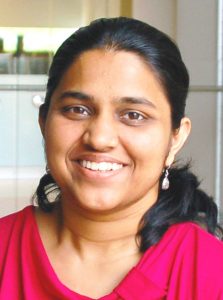 Neelam Prabhu-Gaunkar, Ph. D. student in Iowa State University's Department of Electrical and Computer Engineering (ECpE), was selected as an IBM Fellowship Awardee for the second year in a row. 
According to IBM's research website, "The IBM Ph. D. Fellowship Awards Program is an intensely competitive worldwide program, which honors exceptional Ph. D. students who have an interest in solving problems that are important to IBM and fundamental to innovation in many academic disciplines and areas of study." 
Prabhu-Gaunkar works in the area of nuclear magnetic resonance (NMR) with David Jiles, distinguished professor of ECpE at Iowa State, and Mani Mina, associate professor of the same department and of Industrial Design.
"Through my research, we are hoping to design a prototype low field unilateral NMR system that would find applications in noninvasive low-cost imaging," she said. "While such systems exist for applications like oil well logging, nondestructive evaluation, etcetera, they have not been implemented in medical systems due to limitations such as low spatial resolution and measurement artifacts. We are working on possible methods to overcome some of these challenges."
Last year, Prabhu-Gaunkar received the same honor.
"I felt very humbled that we were selected once again," she said. "Last year, I was very excited and encouraged that industries valued our research work and were supporting our research. It is encouraging that former ISU Cyclones (my mentor at IBM, Emily Kinser) and non-ISU colleagues trust our work and our ideas."
The current chair and previous interim chair of the ECpE department were also excited about Prabhu-Gaunkar's repeated success.
"It is wonderful news and a well deserved award. Heartiest congrats," Ashfaq Khokhar, Palmer Department Chair of Electrical and Computer Engineering, said. 
Associate Chair Manimaran Govindarasu echoed Khokhar's sentiments. 
"Glad to hear this prestigious fellowship was awarded once again to Neelam," he said. "Very well deserving."
Going forward, Prabhu-Gaunkar will continue her research, and she has big-picture goals for the future.
"I hope to be associated with research in the area of electromagnetism," she said. "I hope that in the future our designs and solutions would be used to create portable MRI systems for medical diagnostics worldwide."