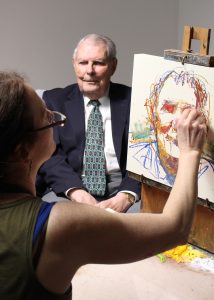 Three individuals with ties to the Department of Chemical and Biological Engineering are featured in the latest round of Faces of Iowa State portraits painted by artist Rose Frantzen at Iowa State University.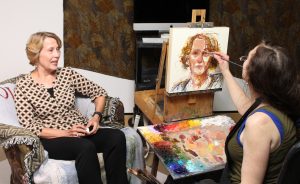 CBE Anson Marston Distinguished Professor Emeritus George Burnet, biomedical engineering alumna and CBE supporter Mary Jane Hagenson and ISU electrical engineering alum and CBE supporter Ed McCracken all had recent sittings with Frantzen. Her renditions of them will be part of a group that will join portraits painted by Frantzen at the Iowa State Fair in 2016.
Burnet has been part of the CBE faculty since 1956. During his tenure he served as head of the department from 1961-1978. He also served as chief of Ames Laboratory's chemical engineering division for many years and was an interim dean of the College of Engineering. He played a key role in helping to organize the Department of Chemical and Biological Engineering's Centennial Celebration, held in 2013. He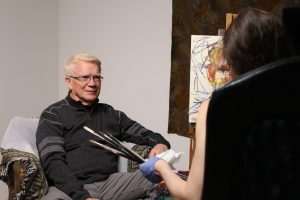 also co-authored a book, "The First 100 Years of Chemical Engineering at Iowa State University," which was released as part of that celebration. Burnet still serves the department in advisory roles, is a lifetime member of the Iowa State University Alumni Association and is a member of the ISU Foundation W.M. Beardshear Society.
Hagenson received a B.S. in physics from Iowa State in 1974; an M.S. in biomedical engineering in 1976; and a Ph.D. in that curriculum in 1980. She is retired vice president of research and technology for Chevron Philipps Chemical Company. She is a past chair of the Department of Chemical and Biological Engineering's Advisory Council, and is a charter member of the department's Hall of Fame, which began in 2013. In 2015 she and husband Randy, an Iowa State alumnus with a B.S. in electrical engineering and M.S. and Ph.D. in nuclear engineering, established the Richard C. Seagrave Associate Professorship in the Department of Chemical and Biological Engineering.
McCracken holds a B.S. in electrical engineering and is a recipient of the Distinguished Alumni Award. He and his wife, Ana, who holds a B.S. in fashion merchandising from Iowa State, provide the Ana & Ed McCracken Engineering Scholarship to a deserving chemical engineering student each year. He is retired CEO of Silicon Graphics, Inc. His leadership spurred the development of computers specifically designed for the creation and manipulation of 3-D images, which were used extensively in the movie and television industry. He was presented with the National Technology Medal award by President Clinton.
Artist Rose Frantzen is a native of Maquoketa, IA, where she became known for a series of painted portraits of local residents. Her works became a display at the National Portrait Gallery at the Smithsonian in Washington, D.C. In 2016 she did 19 similarly-styled portraits of Iowa State faculty and staff during the Iowa State Fair, the birth of the project called Faces of Iowa State. One of those subjects was CBE Anson Marston Distinguished Professor and Carol Vohs Johnson Chair Surya Mallapragada. A total of 13 more portraits were done on campus this spring during a nine-day residency by Frantzen and those works now also become part of the Faces of Iowa State series. They will join the State Fair portraits in a touring exhibition which will launch at the Brunnier Art Museum in late August of this year. It will continue to sites throughout the state of Iowa. At the conclusion of the tour, the portraits will join the Iowa State University permanent Art on Campus Collection.
The finished portraits are pictured below.