Students from AerE 462, the Boeing Senior Design course, traveled to Greensboro, NC for the Senior Design Challenge. For the competition, AerE students from Iowa State were split into two teams and paired with ME students from North Carolina A&T. From there, the "White Team" and the "Blue Team" created an autonomous aircraft for the year 2040 that has the capability of taking off and landing vertically, that can deliver water and hotshot crews in order to fight wildfires.
Students from Iowa State designed and manufactured the aircraft, while the NC A&T students created the water tank distribution system.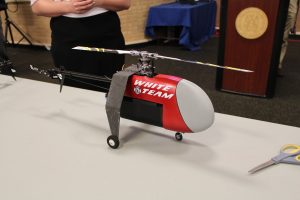 Coordinating from over 1,000 miles away presented its challenges, but the students were able to communicate and design the aircraft together. At the presentation on Thursday in Greensboro, the teams presented their ideas and prototypes to engineers from Boeing.
After a presentation on their design and a test flight, the "White Team" was declared the winner by a panel of judges.