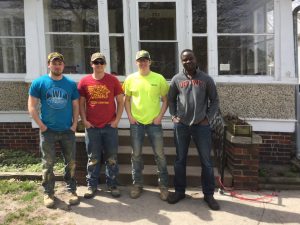 Associated General Contractors student organization pitches in to refurbish low finance housing in Ames
Think of all the things a home provides … security, shelter, a place to relax or have fun. So what if you went home one day, just to find you had no place to go home to?
Members of ISU AGC, or the Iowa State University chapter of Associated General Contractors, are working with the Ames Emergency Residence Project (ERP) to provide a home for the displaced in our community.
Blake Gethmann is a member of AGC and serves as the key leader of the service project.
"I think it's a really great project in Ames, something really great for us to pursue and to give back to the community," Gethmann said.
The student group completed multiple projects between the months of January and February. That includes refinishing the floors of the ERP's shelter, making improvements to a new office area and to residential bedrooms, installing drywall, and completing other, smaller tasks.
"Words can't describe how much their work has impacted the look of the bedrooms," said Carrie Dunnwald, the Executive Director of Ames ERP. "They do beautiful work, and we are very grateful for their time and talents!"
The National Alliance to End Homelessness reported that, on a single night in 2015, more that 560,000 people were experiencing homelessness. The non-partisan organization classified "homelessness" as someone who was sleeping outside, in an emergency shelter, or in transitional housing. Assistance housing, like that provided at ERP, can serve as either emergency shelter or transitional housing for families.
"It's a pretty straight-forward project, but it's a really good opportunity," Gethmann said. " … Any time you can help out somebody who's trying to give back to the community as well, I think that's a really great opportunity."
Dunnwald summed the student organization's work all up.
"We wouldn't have been able to do this project without their help," she said.
---
Interested in student activities at ISU's Department of Civil, Construction and Environmental Engineering? Make sure to check us out on Facebook, Twitter, or LinkedIn (Iowa State University Civil, Construction and Environmental Engineering and ISUConE). You can find more stories on our website, www.ccee.iastate.edu.