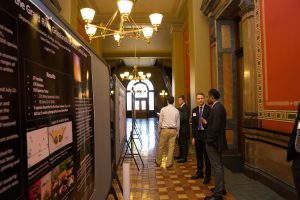 Josiah Green, senior in industrial engineering, presented his poster at the Research in the Capitol Undergraduate Research Symposium on March 28, 2017. His poster, "Simulation Modeling of Human Behavior in Production Systems and Team Dynamics," was selected from a large pool of applications as one of the top 25 submissions from Iowa State.
He presented the poster to legislators and other guests at the Rotunda of the Capitol Building in Des Moines. The event gives an opportunity for undergraduate students who work with university researchers to present their work, and it showcases the importance of undergraduate research on students' academic careers.
Green's research project was done with Caroline Krejci, assistant professor in industrial and manufacturing systems engineering, and in collaboration with David Cantor, associate professor in supply chain and information systems.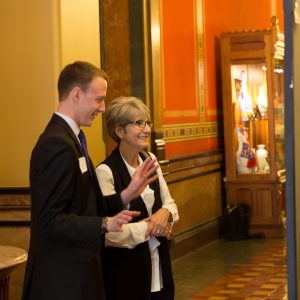 Green said the opportunity was a growing and learning experience for him. He enjoyed learning about the other projects that students presented at the symposium.
"Overall, I was honored to represent IMSE, ISU, and constituents across the Regent's schools who are making Iowa a better place to live through university research," he said.