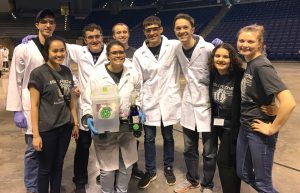 For the second consecutive year, a team of Iowa State students is set to "go racing" at the American Institute of Chemical Engineers (AIChE) national conference in the organization's Chem-E Car competition.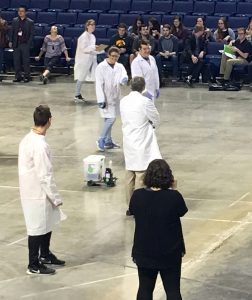 In the recent AIChE Mid-America Student Regional Conference for chemical engineering undergraduates at the University of Tulsa, ISU's "Lime-E Lanterns" team took first place in the Chem-E Car poster competition and took second in the Chem-E Car distance competition. The well-known event requires a scratch-built vehicle powered and stopped by a chemical reaction to travel the furthest distance on a course. The team's performance qualifies its members to compete in the AIChE Annual Student Conference in Minneapolis this fall. Last year an ISU team also qualified for the national competition. "Team Chris" also represented Iowa State in the Chem-E Car competition at the Tulsa regional event.
The Lime-E Lanterns team consisted of Gabi Ampuero, Michelle Ampuero, Brett Bobko, Derek Bruun, Trang Hong, Joe Musielewicz, Alex Sazenski and Austin Weiser. The Team Chris lineup included Jonah Brown, Josh Potvin and Alvin Wong.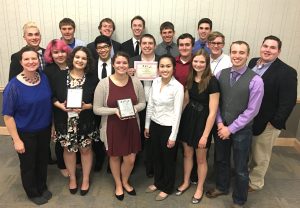 In other results, a team of Michelle Ampuero, Carolyn Jennrich, Josh Potvin, and Sazenski placed third in the ChemE Jeopardy competition. Seth Baetzold and Viktoriia Kriuchkovskaia participated in the student research presentation competition. Other conference participants included Nicholas Brown, Gavin Hellmich, and Quinn Hanson-Pollock.
The Department of Chemical and Biological Engineering congratulations all of its conference participants for representing Iowa State proudly.