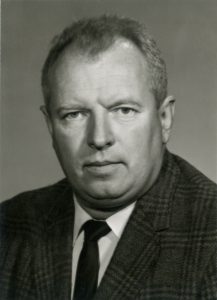 When Morris H. Mericle died Monday, Jan. 23, 2017, in Santa Clara, Calif., Iowa State University's Electrical and Computer Engineering (ECpE) department lost a distinguished alum and faculty member. Morris was a beloved professor, as well as an admirable father and husband. During his time at Iowa State, Morris received his bachelor's, master's and doctorate degrees from Iowa State, and he was a professor for the Electrical Engineering Department for 30 years.
Morris was born in Toledo, Iowa, on March 26, 1925. He began his college career in 1943, but he was commissioned by the U.S. Naval Academy in 1944 and served in World War II. Mericle later graduated from ISU in 1947; he went on to receive his master's in 1956 and his doctorate in 1963, both in electrical engineering.
"My recollection is that Morrie Mericle and I took some of the same basic electrical engineering courses together back in 1941 and 1942. With World War II intervening, our paths parted for many years until 1986 when I returned to ISU as an Adjunct Professor in ECpE," Emeritus Adjunct Professor Glenn Hillsland said when recalling his memories of Morrie. "I then met Morrie again over a cup of coffee in the coffee shop in Coover Hall. From those conversations, I got the impression that Morrie was a very practical-minded guy who effectively applied knowledge gained in academia to solving problems out in the world of blood, sweat and tears."
Morris' first became interested in electrical engineering in the winter of 1936. In a personal essay Morris wrote for the Ames Historical Society, he reminisces on the struggles his family faced after they lost their Toledo home to foreclosure. As Christmas approached, Morris was living in a tiny house with his parents, grandparents and his two younger siblings. Though his mother had told him not to expect anything for Christmas that year, Morris' father couldn't resist getting him something.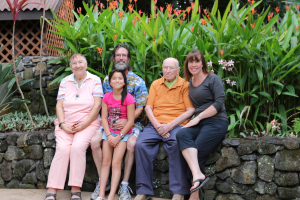 "It was then I saw what [his] jacket had been hiding: An eight-and-a-half erector set, the largest size. It had probably cost $14, a huge amount at that time. A prudent person could eat for two weeks on $14," Morris wrote, as he recalled the memory. "Only later did I learn that my dad had originally bought me a five-and-a-half erector set, only to learn from our neighbor that their son would be getting the seven-and-a-half set. It was then that my dad took my present back and exchanged it for the best erector set offered. I think he needed to give it as much as I needed to get it."
Eileen Mericle, who has been married to Morris for 57 years, looks back at her late husband's years at Iowa State as a fun time. According to Morris, many of the faculty members and professors would play jokes and pranks on each other. Eileen remembers one story where someone even put a weather balloon in another person's office, and it exploded when they opened the door.
"Morrie was an unforgettable character. He was a great storyteller, whether he was talking about his time in Alaska, in the Chicago steel mills, in the aircraft industry in Southern California or just adventures around Ames," Emeritus Professor Terry Smay said, recalling his memories of Morrie. "He had a long and adventure-laden life, and I remember him fondly."
During his time as an associate professor at Iowa State, Morrie taught control theory, along with Distinguished Emeritus Professor Grover Brown. Morrie also taught electronics and was among the most popular faculty members, according to Emeritus Associate Professor Tom Scott.
"He often socialized with students in evenings as well as working hours. Students regarded him as a friend, not just a task master," Scott said.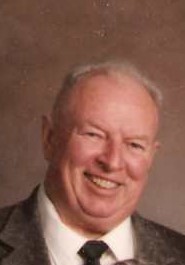 However, Morris did not only spend his time teaching. He spent many years working for Republic Steel, the Corps of Engineers, Lockheed (Martin) and Autonetics.
After he retired, Morris enjoyed his days traveling with his wife around the country visiting old friends. They ultimately resided in Silicon Valley, Calif., but have had an Ames, Iowa, phone number for the last 55 years, which they insisted the phone company let them keep after their move out of the state.
"He was a fantastic father, best father there ever was. He was crazy about his daughters and they were crazy about him," Eileen said.
Eileen also said their two daughters looked up to him very much, and one even got a degree in electrical engineering and worked as an electrical engineer for the U.S. Navy where she worked on advancing electrical simulations. The other is a vice president of Adobe in Silicon Valley.
"He wanted his legacy to be his children, and that turns out to be true," Eileen said.
Eileen has set up a tax-deductible memorial in Morrie's name. Any contributions may be made to the ECpE Department, Coover Hall, ISU, Ames, Iowa, 50011.
A graveside service will be held on July 3 at ISU Cemetery at 10:30 a.m. After the service, guests are invited to have lunch at Olde Main Brewing Company in Ames.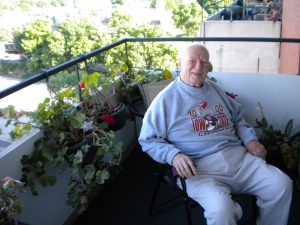 "Morrie was the historical bridge between Veteran WWII faculty and GI-bill grad student TAs for newbies like me. His embellished stories about their unique idiosyncrasies and moments were colorful and hilarious," Emeritus Professor Dick Horton said. "Our time together spanned 30 exciting years, during which the solid-state analog and digital electronics era began and was quickly followed by the microprocessor and personal computer era. Change was constant, and Morrie embraced it."