Ashley McKenna, a junior in materials engineering from Vinton, Iowa, recently received the $5000 MTI Bert Kisher Memorial Scholarship to assist in her undergraduate educational experience at Iowa State University. She was one of two recipients among applicants from North America, Europe, and Asia.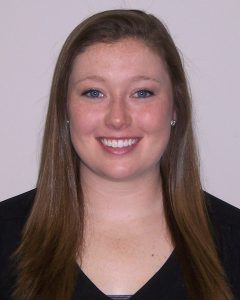 McKenna has been an active student in the Department of Materials Science and Engineering and throughout Iowa State University. She has been involved in the Iowa State Honors Program, Women in Science and Engineering, Materials Advantage, being a teaching assistant, Freshman Leaders in Engineering, Habitat for Humanity and Iowa State Crew Club. She is a Tau Beta Pi Scholar, National Merit Commended Scholar, and Boeing Scholar.
McKenna has gained experience in the materials science and engineering industry by completing the Thermal Papers Research and Development Cooperative with Appvion, Inc. in Appleton, Wisconsin during the fall 2015 semester. During the summer of 2016, she was a process engineering intern at Alcoa Howmet Power and Propulsion Research Center in Whitehall, Michigan. She is also a student researcher at the Center for Nondestructive Evaluation at Iowa State.
Another highlight of her student career has been studying abroad at the University of Limerick in Limerick, Ireland during the spring 2017 semester.
McKenna's post-graduation plan is still undecided, but she knows that she would like to work in the field of material design, specifically with metal alloys. Her goal is to work in industry for a few years before potentially returning to higher education to pursue a Ph.D. in material science.
"Being selected as a recipient for this scholarship has been a huge honor.  It is a very competitive scholarship with many qualified applicants, and I am very honored to represent Iowa State as one of the recipients.  I would like to thank my professors and mentors that wrote letters of recommendation and helped me over the past few years.  I'm looking forward to getting back to Iowa State for my senior year!" said McKenna.
About the MTI Bert Kisher Memorial Scholarship
The Materials Technology Institute (MTI) scholarship was created to stimulate outstanding students to pursue careers in the area of Materials Engineering in the Process Industries. The program also gives member companies access to some of the best engineering talent being produced at universities around the world. Several scholarship winners have gone on to work for their member companies and some are now regular participants in MTI meetings and project activities.
MTI is a not-for-profit technology development organization focused on both developing new technology and transferring existing knowledge to day-to-day practice. Through MTI, member companies can access solutions to nonproprietary problems to increase plant integrity, reliability and profitability. MTI sponsors projects and studies that are conducted on the selection, design, fabrication, testing, inspection, and performance of materials of construction used in the Processing Industries.
For more information, visit http://www.mti-global.org/mti-student-scholarships.