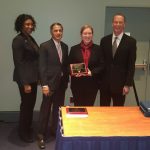 Master's student excels during Transportation Research Board presentation
Patricia Thompson is not just a two-time Dwight David Eisenhower Transportation Fellow. This month, the transportation engineering master's student earned best oral presentation at the 2017 Transportation Research Showcase.
"Receiving the award means, to me at least, that I was able to make people take an interest in what I'm doing, that my research could be useful in improving roadway safety and save someone's life someday," Thompson said.
Last spring, Thompson was one of two Iowa State University (ISU) graduate students to earn Eisenhower Transportation Fellowships from the U.S. Federal Highway Administration (FHWA). As a part of that fellowship, Thompson presented research at the 96th Transportation Research Board (TRB) Annual Meeting, held Jan. 7-12 in Washington, D.C.
Gerald Hill, universities and grants programs analyst for the fellowship program, said that out of 210 Eisenhower Fellows, Thompson was one of only 18 chosen to give an oral presentation. A review panel of FHWA transportation officials then chose Thompson's presentation, Development of an Economic Framework for the Proactive Identification of Safety Countermeasures, as outstanding.
At hearing the news, Thompson's initial reaction was disbelief.
"When I presented, I knew in the back of my mind that there was a chance that I could get the award this year, but to actually receive it was very unexpected," she said.
The award need not come as a shock, though. For several years now, Thompson has conducted research for the Michigan Department of Transportation. That work involves developing crash prediction models and cost/benefit ratios for precautionary measures. A portion of that research includes cost estimation of various safety measures, as well as effectiveness after installation.
"I wanted to develop an easy-to-use tool that could help non-engineers and those not familiar with the reports, and models contained there-in, utilize the results that my fellow researchers and I have spent so much time on," Thompson said.
Dr. Peter Savolainen is an associate professor at ISU's Department of Civil, Construction and Environmental Engineering. He is also Thompson's main professor. Thompson is one of several students for which Savolainen oversees research at ISU's Institute for Transportation, or InTrans. When he found out that she had snagged the presentation award, Savolainen credited Thompson's resourcefulness.
"She's very hard working, very detail-oriented," Savolainen said. "For this project that she's been working on, I think one of the most exciting things is that she's taken the initiative on her own to go beyond what the sponsors were asking for."
Both Thompson and fellow master's student Ellen Nightingale presented research in fulfillment of their 2016 Eisenhower Transportation Fellowships. Read more about their research in ISU CCEE students earn FHWA Eisenhower Transportation Fellowship for second year running.
---
Interested in graduate student opportunities at ISU CCEE? Follow us on Facebook, Twitter and LinkedIn (Iowa State University Civil, Construction and Environmental Engineering and ISUConE). And check out our website, www.ccee.iastate.edu.