Earning a Dwight David Eisenhower Transportation Fellowship once is outstanding. So when 2015 Eisenhower Transportation Fellows Ellen Nightingale and Patricia Thompson submitted applications for a second time this spring, they were cautiously optimistic.
"We were just kind of keeping our hopes up but kind of being realistic and accepting that it would be a good thing to get but not a given," Nightingale said.
Last month, both Nightingale and Thompson learned that their applications had earned them Eisenhower Fellowships from the U.S. Federal Highway Administration (FHWA). Those fellowships include $11,500 a piece for Thompson and Nightingale, both Iowa State University (ISU) Department of Civil, Construction and Environmental Engineering graduate students, to continue research in transportation engineering.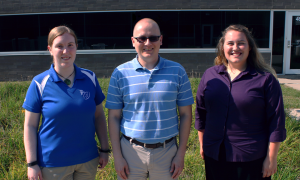 Earning the Eisenhower—not once, but twice—is quite an encouragement, says Thompson.
"It gave me a boost of confidence that I would succeed at research in traffic engineering, when I had no experience in research in that field," Thompson said of earning her first Eisenhower. "Being awarded the honor again reaffirms that I am continuing on a path that I can be successful at."
The graduate students conduct research at ISU's Institute for Transportation (InTrans). Nightingale is working with the Iowa Department of Transportation (Iowa DOT) to analyze the safety and cost-effectiveness of highway cable median barriers. That includes recommendations of where barriers should be installed based on safety and cost-effectiveness.
Nightingale started her graduate degree at ISU in August 2015. She has high praise for both her university and her project advisor, Associate Professor Peter Savolainen of ISU's CCEE Department.
"I knew that having a strong mentor and advisor would be the number one thing that would take me through grad school and not only let me just get by but truly succeed," Nightingale said. "So I think that I definitely made the right choice in not only coming to Iowa State but also having Dr. Savolainen as my advisor."
Thompson echoes that idea.
"When I started I knew the basics about conducting a research project, but it was just the tip of the iceberg," Thompson said. "There is still a lot to learn, but the guidance that I've received while here has put my understanding of the subject on the fast track."
Thompson currently conducts research at InTrans for the Michigan Department of Transportation (MDOT). She analyses large amounts of data to develop crash prediction models and cost/benefit ratios for safety measures. She also weighs the cost of different safety measures and the effectiveness after installation.
Savolainen has worked with both researchers since they first started their graduate work at Iowa State. He says their dedication is exceptional.
"They're very hard-working, very detail-oriented, [and] very passionate about their work," Savolainen said.
Thompson and Nightingale will travel to the Transportation Research Board (TRB) Annual Meeting in Washington, D.C. in January 2017 to present their research. Find out more about student and faculty research by visiting ccee.iastate.edu. Follow us on Facebook, Twitter and LinkedIn for the latest ISU CCEE research updates.