Being more than 1,300 miles from home, art is what keeps junior mechanical engineering student Ben Levine from becoming homesick.
Levine is originally from Mansfield, Mass. – about halfway between Boston and Providence, R.I. – and he moved to Ames two years ago to study mechanical engineering at Iowa State. His decision to choose ISU was based on a combination of factors: a cousin who attended, the strong engineering programs, and the fact that "it was far away from home."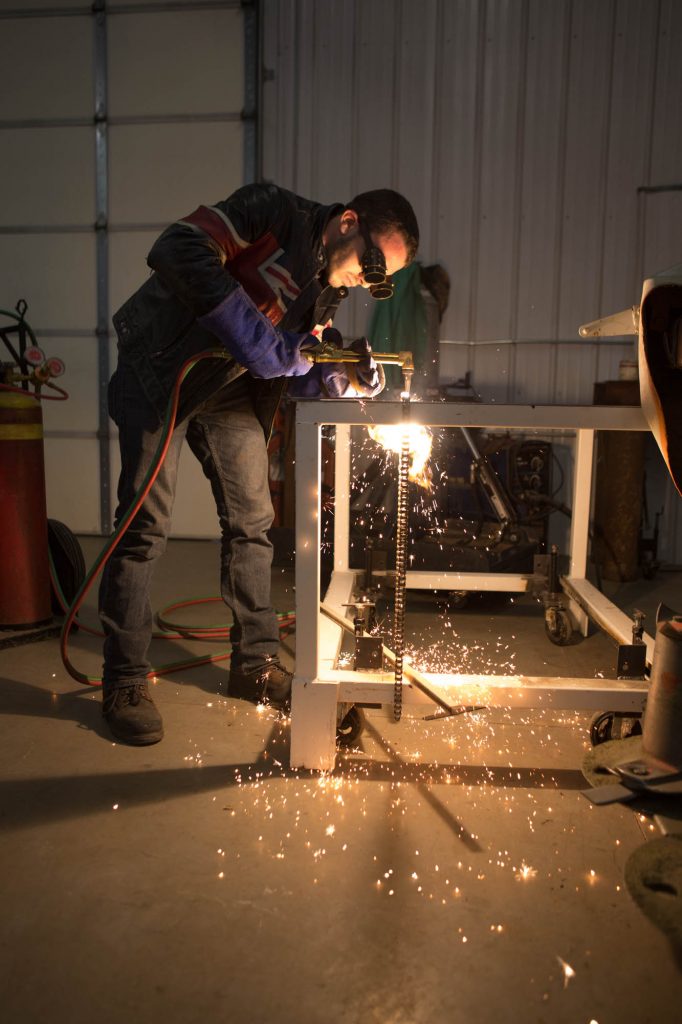 It has been at ISU that Levine has been able to combine this interest in mechanical engineering with his passion for art. Levine first got involved with art in middle school, creating duct tape wallets. He was intrigued by statues and other sculptures he saw at museums and other public art displays in New England which led to his interest in industrial art. He then began constructing crabs and other "little monsters" out of soda cans and similar scrap materials.
Levine also attributes his interest in industrial art to The Steel Yard, a non-profit organization based in Providence "committed to cultivating an environmental of experimentation and a community strengthened by creative networks." It was through The Steel Yard that Levine got introduced to welding.
"When I was fifteen, like a lot of people, I felt really awkward and was really self-conscious. I found The Steel Yard through some research because I wanted to learn to weld. I took a weekend welding workshop class there and I loved it," said Levine.
"I started volunteering and meeting the people who work there and they have become like a second family to me. I can honestly say I am who I am today because of the great people I got to work with at The Steel Yard. Since then I've taught welding to high school students and helped to run some really cool events there."
Even though he has a passion for art, with the surrealism of Salvador Dalí being one of his biggest influences, Levine chose to study mechanical engineering at Iowa State because he felt it offered a great deal of versatility in terms of careers. He also felt that the ME curriculum would teach him skills and knowledge that he could apply to his art.
"I think mechanical engineering is really versatile. I think that with the art side of things it works really well because a lot times I've found things that we've learned in class that I've had to use when building a sculpture," he said.
"If I'm using scrap steel and I don't know where that steel came from I can use that materials science side of things to say 'what do I need to do to temper this steel to align the crystalline structures to make sure it will weld properly?' So I think mechanical engineering transitions well and also it's just such a versatile field that I pretty much have all of my options open for where to go from here."
While art and science are often seen as different sides of a spectrum, Levine argues that these two fields are actually interrelated.
"I think a lot of people think that as engineers or as artists it's like you have a creative side and you have this really technical side. In actuality you have both of those and it's really a matter of how much you can gain in knowledge on both ends. So if you have a creative design side but you also have the mechanical structures than you can create some really amazing pieces because you know both sides of it. You can make something that looks beautiful but also functions really well."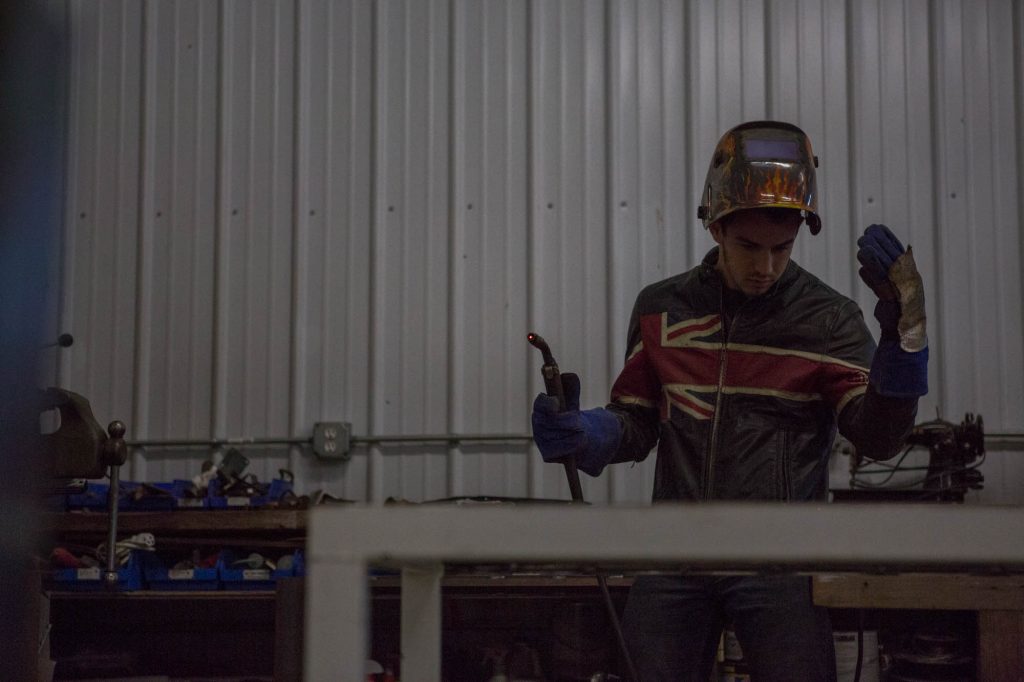 Part of the beauty of the artwork for Levine is using scrap materials that he can obtain for little or no cost.
"I try very hard not to use stock material. I try to go out to scrapyards to find material whether it's a tractor piston or a broken cam shaft. And I try to figure out how can I turn that into something else."
One example Levine pointed to was using old pistons to create hooves for a bull statue. Some of Levine's recent art projects are currently on display at the Vinyl Café in downtown Ames. It was also through the Vinyl Café that Levine was tipped off about a workspace with a welder just outside of town. He has used the space for a couple of months now and has been grateful for the generosity of the owner.
"I would like to thank Terry Weiland for his generosity in letting me use his space and equipment. He is an amazing guy and I really value the trust he gave me in letting me use the space. It is an honor and a privilege," Levine said.
Levine has also been grateful for efforts by ME advising staff who have worked with him and encouraged him to combine his engineering interests with his passion for art. Levine's academic advisor, Jessie Vosseller, said that Levine's story is a great example of the versatility that an ME degree can offer.
"There are so many career options out there for a ME student, which can be overwhelming. I think the more a student considers their individual passions, and how those could tie into a career, the less overwhelming it hopefully becomes," she said. "Ben is a great example of finding and using his resources at Iowa State and in the community to tie together his degree with his passions for recycled materials and processes."
Levine said he expects to graduate in December of 2018. Eventually he hopes to do entrepreneurial work but in the short term he hopes to work for a small company "building out infrastructure and factory processes." He also wants to live in a community where he can "have an impact on the art side of things."
Much like Levine was able to come to college and combine his interests, he encourages others to find ways to combine their interests.
"I kind of like to tell people that they should really find what they enjoy and what they find creative and try to link that back to their majors or their studies because a lot of times people try to keep those two things separate and I think it's really beneficial to link as much as you can together," he said. "I really appreciate the interest that people have had with this. It makes me feel good that people are interested in the work that I do and this kind of art because I think it goes unnoticed sometimes."