With the rise in demand for new electronics and better technology, there is also a rise in waste material. There is a need for a more efficient but affordable recovery processes. What happens to all the material waste after old and unused technologies get replaced? Is there value in the materials that remain? How can critical materials be recovered more efficiently in the process? These questions fueled the exploration that has resulted in a patent, grant and now a small business.
To Martin Thuo and Christophe Frankiewicz, the question "How can critical materials be recovered more efficiently?" was open to discovery and testing. They believed there was a better way to eliminate the waste in the current recovery processes. Thuo, Assistant Professor, and Frankiewicz, Postdoctoral Researcher, in the Materials Science and Engineering department have been studying these processes since August 2014.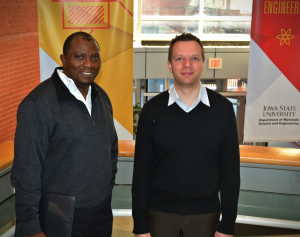 With Thuo's background in materials chemistry and Frankiewicz's background in mechanical engineering, this seemed a perfect fit with the right combination of interdisciplinary skills and expertise to potentially make an important impact on society and the recycling community.
After the initial discovery and five months of validating their hypothesis, Thuo and Frankiewicz quickly realized the results proved that they had discovered a more efficient way to recover critical materials that could minimize waste in the recycling process. In March 2016, they filed a provisional patent for discovering the process of "mechano-chemical separation and purification of metal alloys and analogous materials."
The Science Behind the Patent
Rare-earth and specialty metals are critical materials. Critical materials have unique properties, and no other materials can match these properties. These materials are scarce, but they are useful in many technologies that range in scale from personal devices to large biomedical equipment. For example, if you take a phone apart, there are many metals, including critical materials, that are used in fabrication. Typically, critical materials are difficult to recover because they are either hard to separate or because of the low concentration in the electronics component.
"China is a leading producer of rare-earths, and Japan is the leading country in recovery of rare-earths from waste. We hope to change the game players and help the United States become one of them," said Frankiewicz.
There are two current technologies used to recover materials: smelting and leaching. Both methods are inefficient and produce a lot of waste that typically is disposed of in the landfill. The process is also customized to recover a few elements at a time and often requires pre-processing enrichment.
Because of the inefficiencies, Thuo and Frankiewicz have discovered a third process which is now patented. By combining the thermal, chemical and mechanical processes, the materials break down to their elemental composition and, therefore, eliminate waste. Using this new method, Thuo envisions turning e-waste dump sites into 'mines' allowing the U.S. to be competitive in the production of these critical materials.
Business Adventure and RIF Award
After discovering this new, efficient critical materials separation process, their research group understood the commercial potential. They began their application for a grant from the Regents Innovation Fund from the Iowa Board of Regents. The award is to help transition technology into a small business based out of the ISU Research Park. Sep-All is a member of the ISU Startup Factory inaugural cohort and has successfully gone through all the business training necessary to launch successfully.
Martin Thuo and Christophe Frankiewicz are the co-founders of their startup company called Sep-All.
"Receiving a patent and starting a company is just the next logical step to help our society," said Frankiewicz.
Recently Thuo's lab and Sep-All were awarded the Regents Innovation Fund (RIF) grant of $50,000. Sep-All matched $23,500 in kind for the RIF grant to be awarded. This grant allows Sep-All to be an independent entity.
"Validating the hypothesis was a moment of scientific joy and reward for our hard work and brainstorming sessions. Receiving the grant was a moment of recognition by our peers and beyond the scientific community, and working with great people with similar minds is always interesting because of the competitive advantage that is generated and the motivation that follows," said Frankiewicz.
An official name for the separation process, limitations to the process, and growth of their new company are yet to be determined, but they are hopeful to see positive impacts on society as a result of their research.