Twelve seniors will be honored at this semester's commencement ceremony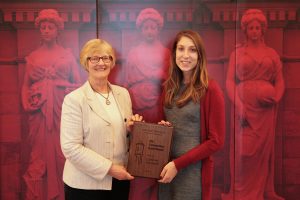 Catherine Krezowski, a civil engineer from St. Paul, Minnesota, is serving as this semester's College of Engineering Student Marshal during the fall 2016 commencement ceremony. She will be accompanied by Beth Hartmann, senior lecturer in civil, construction and environmental engineering, as she leads the engineering class into the ceremony held December 17.
Krezowski has received numerous awards and honors throughout her adventure at Iowa State. She was inducted into Tau Beta Pi and Chi Epsilon, and has been on the Dean's list for eight semesters. Among her honors, Krezowski received multiple scholarships including: the E2020 Scholarship (2011-2015), Coss Family Foundation Scholarship (2011-2015), Global Resource Systems Major Fund (2013-2016), Tau Beta Pi Scholarship, (2012-2013), the Pak-Liu Fung Scholarship (2015), Paul Foster Barnard Memorial Scholarship (2012-2013), Edwin R. & Ruth Adland Civil Engineering Scholarship (2012-2013, 2015-2016), the Don French Memorial Scholarship (2015-2016), and the E. Robert Baumann Scholarship in Civil Engineering (2016).
She found success outside of the classroom through her leadership and drive to serve others. Krezowski served as a volunteer coordinator and humanitarian awareness director for the International Student Council and helped raised funds and find volunteers for International week. She also served as the co-chair of the VEISHEA Service Day, where she arranged service at the Ames Animal Shelter, the Emergency Residence Project, and other various sites that needed cleaning. Additionally, she volunteered as a Raising Readers Reading Buddy, cooked for the Dorothy Day homeless shelter in St. Paul, Minnesota, and cleaned the Des Moines River with others in Project Aware.
When Krezowski was not serving others, she was building her professional experience. She worked for the Center of Inter-American Studies in Cuenca, Ecuador, where she collaborated with ETAPA, the Ministry of Public Health, and the Ministry of Education to determine the source of water contamination in schools. She then wrote guidelines that improved the use of cisterns in schools.
Krezowski also worked in a co-op for Braun Intertec where she tested soil and concrete, and inspected rebar, and she interned for Flint Hills Resources of Koch Industries where she coordinated a wetland delineation and managed environmental compliance for the expansion of a railroad.
Krezowski was part of a research group that studied the use of corn stover to produce bioenergy and another research project that investigated the feasibility of removing ammonia from wastewater treatment plants by comparing technologies.
After graduation Krezowski plans to work full-time with Koch Industries.
Outstanding Seniors named for fall 2016:
Dina Caicedo, aerospace engineering
Michael Hanigan, agricultural engineering
Kourtney Wagner, biological systems engineering
Grady Hugunin, chemical engineering
Alex Leuhm, computer engineering
Scott Miller, construction engineering
Sara Jones, electrical engineering
Alicia Guzmán Gutiérrez, industrial and manufacturing systems engineering
Catherine Meis, materials engineering
Denny Kramer, mechanical engineering
Aaron Forest, software engineering
Dina Caicedo, aerospace engineering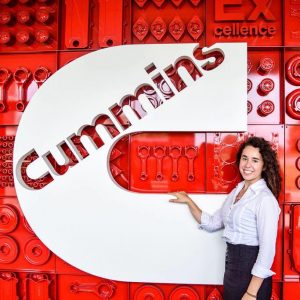 Dina Caicedo, an aerospace engineer from Bogota, Columbia, has served multiple, critical positions with the Society of Hispanic Professional Engineers (SHPE), and she organized semester visits to multiple high schools to encourage students to pursue Science, Technology, Engineering and Mathematics (STEM) fields.
Caicedo conducted research on microfluidics as an undergraduate research assistant. She presented her work to the American Physical Society and helped produce the paper Surface Tension and Surfactant Transport/sorption parameters in the presence of a three-phase contact line: capillary tube measurements. Caicedo also helped on a research project to improve diesel engines at high speeds.
Caicedo worked at a co-op for Compressor Controls Corporation and an internship with Cummins. After she graduates, Caicedo will return to Cummins until August 2017 and then will continue on to graduate school.
Caicedo will continue on to work in an Engine Optimization position with Cummins. She also plans to attend graduate school next fall.
Michael Hanigan, agricultural engineering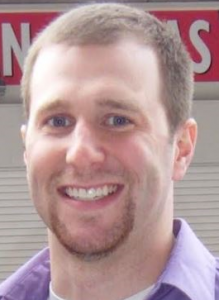 Michael Hanigan, an agricultural engineer from Dunlap, Iowa, was active in the Cyclone Power Power Pullers. During the group's annual competition, he led the X-Team to a 3rd place finish and as the lead aesthetics engineer he helped the team win the National Best Appearance Award. Hanigan also served as a peer mentor and regularly volunteered, including organizing a fundraiser for the Battle for Jason, building a home in Des Moines with Habitat for Humanity and helping fundraise for Junior Achievement of Eastern Iowa.
Hanigan designed a subassembly frame cart to improve productivity and safety as well as a shopping fixture for his internship with Kinze Manufacturing in 2014. He worked for John Deere Waterloo Works in 2015 and developed and implemented the design and fabrication of part specific containers. Hanigan continued his internship in 2016 and developed a manufacturing 3-5-year capital budget plant.
Hanigan will continue his education in graduate school at Iowa State University focusing in precision agriculture.
Kourtney Wagner, biological systems engineering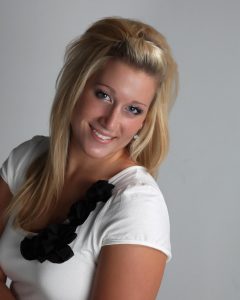 Kortney Wagner, a biological systems engineer from Wapello, Iowa, has received multiple honors over the years, including being named to the Iowa State University Dean's List (2012-2016), becoming certified as an FDA Preventive Controls Qualified Individual, and receiving the President's Award for Competitive Excellence Scholarship, Dr. J. B. Davidson Scholarship Award, and Governor's Scholar Award.
Wagner was a member of the Alpha Lambda Delta/Phi Eta Sigma Honor Society, National Council on Youth Leadership, Tau Beta Pi Honor Society, Wapello Substance Abuse Task Force and the Phi Kappa Phi Honor Society .
She served as a graduate teaching assistant and research assistant for the Grain Quality Laboratory in Ames, Iowa, where she assisted in machine calibration, analyzed large quantities of data, developed industry online lecture, and became proficient in NIR software usage. She also conducted research at BioCentury Research Farm in Ames, and analyzed several crop types, interpreted and analyzed data, and enhanced her engineering skills.
Wagner plans to continue her education with a Master of Science at Iowa State University. She will be developing a mass balance model for soybean processing, including compositional analysis.
Grady Hugunin, chemical engineering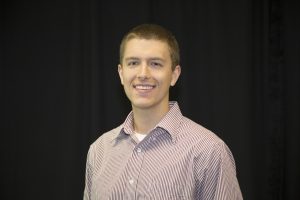 Grady Hugunin, a chemical engineer from Sioux Falls, South Dakota, was a peer mentor for the First-Year Chemical Engineering Learning Community for three semesters, where he also developed weekly class content that focused on academic skills and leadership. He frequently presented at university-wide peer mentor training events.
Hugunin leads supplemental instruction for Chem 177 and serves as a supplemental instruction mentor to prepare upcoming SI instructors at the beginning of each semester. He also coordinates performance-based feedback and ongoing professional development for up to seven SI leaders per semester.
Hugunin also served on the chemical and biological engineering safety committee. In this role, he led a project to develop and implement an online system that contained a safety hazard checklist and a management of change form for all research labs in the department to use.
Hugunin will continue on to work as a Manufacturing Engineering Associate for General Mills in Cedar Rapids, Iowa.
Alex Leuhm, computer engineering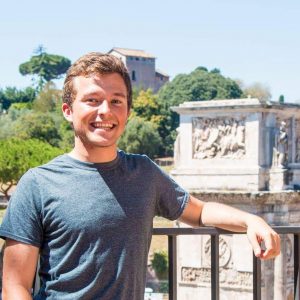 During his time at Iowa State, Alex Luehm, a computer engineer from Arcadia, Nebraska, was as a leader; co-host for a programming camp for gifted middle and high school students; an assistant for creating computer engineering labs; a peer mentor for introductory programming course; a teaching assistant for both a digital logic course and embedded system course; and an ambassador for the Department of Languages and Cultures, where he offered guidance and advice about the Languages and Cultures Program to a number of students.
Luehm won first place in the Cyber Defense Competition in2015 and spent the summers of 2014 and 2015 at Garmin International working with a team on a new release of VivoActive and the Aviation Common Library.
He also studied in Aachen, Germany, and applied his engineering skills while learning more about German language and culture.
Luehm will continue his education with a Master of Science in Computer Engineering with a co-major in Information Security at Iowa State University.
Scott Miller, construction engineering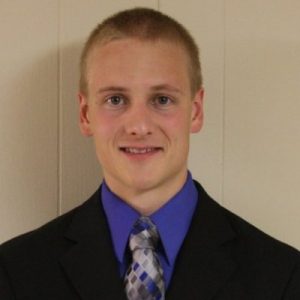 Scott Miller, a construction engineer from Urbandale, Iowa, served leadership roles for several organizations. As the community service director for the student chapter of the Associated General Contractors, Miller collaborated with the City of Ames and churches in Ames to organize work trips that led to 1,000 hours of service to areas of need. For seven semesters, Miller spent his breaks repairing and rebuilding damaged homes in areas of need.
Miller participated in the Associated Schools of Construction Regional Competition, and his team took second place in 2015 and first place in 2016. He was also a member of the Green Energy Challenge team that took first place in the nation in 2016.
Miller worked as a project engineer intern for Ryan Companies and a construction engineer intern with the Renewable Energy Group. He also served as a mechanical project manager and design engineering intern for the Waldinger Corporation, where he will continue to work full-time after graduation.
Sara Jones, electrical engineering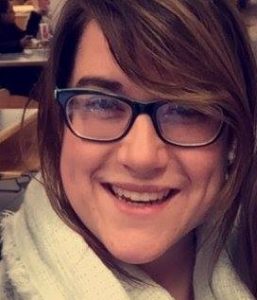 Sara Jones, an electrical engineer from Marion, Iowa, has actively involved herself with the Department of Electrical and Computer Engineering as a peer mentor for three years, a community event organizer for two years, and a teaching assistant to numerous electrical engineering students for three years. Jones also served on the ECpE Student Advisory Committee.
Jones worked as a Design Certification Engineer with Garmin International for the past two summers. She was tasked with certifying aviation equipment and writing documentation for the FAA.
Jones will continue on with her Master of Science in Controls Engineering at Iowa State University.
Alicia Guzmán Gutiérrez, industrial and manufacturing systems engineering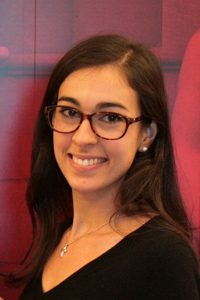 Alicia Guzmán Gutiérrez, an industrial engineer from Guaynabo, Puerto Rico, was a George Washington Carver Scholar (2012) and a Tau Beta Pi Iowa Alpha Scholar (2013). She is a founding member of the George Washington Carver Advisory Board's Special Initiatives Committee and served on this group from 2013-2016.
Guzmán Gutiérrez was an undergraduate research assistant for the Department of Industrial and Manufacturing Systems Engineering, where she researched recycling processes to develop an environmentally sustainable end-of-life plan for wind turbine blades (2014) and helped develop the dashboard for manufacturability software as a member of the Rapid Manufacturing and Prototyping Laboratory (RMPL) team.
Outside of her research, Guzmán Gutiérrez held a wind energy engineering internship (2015) and a transmission planning internship (2016) with Alliant Energy. She also served as a teaching assistant for Engineering System Design, Manufacturing Processes and Specifications (IE 248).
Guzmán Gutierrez also explored Swansea University, Swansea, Wales, in Spring 2015. She will continue her education with a Master of Science in Industrial Engineering at Iowa State University
Catherine Meis, materials engineering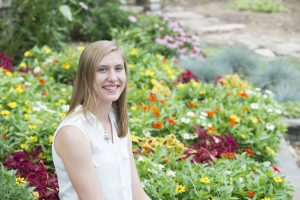 Catherine Meis, a materials engineer from Le Mars, Iowa, served as secretary of Material Advantage and was one of five engineering students to visit Iowa's congressional representatives in Washington, D.C. She was also an Honors Program ambassador, project officer for Tau Beta Pi and outreach presenter for Women in Science and Engineering.
Meis received the Goldwater Scholarship (2015), the Janice L. Davidson Scholarship for Women in Science/Engineering (2013, 2014), the Outstanding First-Year Honors Program Member Scholarship (2013), the University Honors Program Research Grant (2013), and she has been a National Merit Scholarship recipient (2012-2016).
She spent two summers working as a laboratory intern at Medtronic PLC and held a summer National Science Foundation Research Experience for Undergraduates position at the University of Minnesota. Meis's senior design project centered on identifying material properties for altering macrophage responses, and she designed a microfluidic "organ-on-a-chip" for her Honors Capstone project. She has three peer-reviewed journal articles and four conference presentations.
Meis plans to puruse a Ph.D. in materials science and engineering.
Denny Kramer, mechanical engineering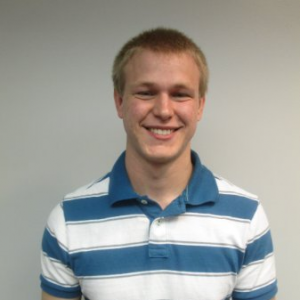 Denny Kramer, a mechanical engineer from Earling, Iowa, was on the Dean's List every semester during his time at Iowa State. He also served for several years as a community advisor and a learning community peer mentor for undeclared engineering, participated in the Quarter Scale Tractor club and served as the fundraising co-chair for Engineers without Borders.
Kramer held a tooling engineering co-op (2014) with Kinze Manufacturing, where he designed and redesigned product components and planned continuous improvement projects. As a lean manufacturing engineering intern (2015) with Polaris Industries, Kramer eliminated non-value added standard work, designed and verified new tooling a new product, and implemented group lead boards that better tracked safety, quality, delivery, and productivity metrics. Finally, Kramer was a reliability-maintenance engineering intern with the Olin Corporation and performed stress and FOS calculations, designed models to predict product performance and reviewed inspection reports.
Kramer will be working for John Deere in the Engineering Development Program.
Aaron Forest, software engineering

Aaron Forest, a software engineer from Waverly, Iowa, held three internships as a student. He was a performance excellence intern with GMT Corporation, where he used SyteLine software and created training slideshows within Lean Six Sigma methodology. He also worked at the Principal Financial Group as a Java developer on an agile scrum team and developed a retirement investment calculator web application. Finally, he was a web developer at Workiva and created new and unique software solutions.
Forest also served as a math tutor in the Student Success Center, a teaching assistant for the Department of Electrical and Computer Engineering, where he led a recitation and lab for Digital Logic (CprE 281), and a cardinal mentor and team leader for Destination Iowa State. Outside of his busy schedule, Forest volunteered for Habitat for Humanity and St. Thomas Aquinas Church.
He will continue on to work as a software developer at Workiva upon graduating.