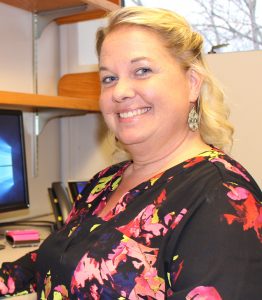 The Department of Chemical and Biological Engineering welcomes Kate Jurgenson to the staff. She becomes the fourth academic advisor in the department, and will be working with undergraduate students, as enrollment continues to grow.
Jurgenson has a background in advising with Iowa State, having worked in that role for Elementary and Early Childhood Education from 2000-2008. She says she is excited to resume her work as an advisor. "Coming back to advising has been a dream of mine for several years. It's the best job I've ever had, and being back on campus is just wonderful. I even teared up a little looking at the Campenile yesterday," she commented.
She is a true Cyclone, having obtained bachelor's degrees in speech & theater and secondary education, with an endorsement in English; and a Master's of Education in counselor education, all from Iowa State.
Kate lives in Ankeny with two sons, a Chihuahua named Paco and three cats. Her husband is on active duty with the U.S. Army, serving in Baghdad, Iraq.