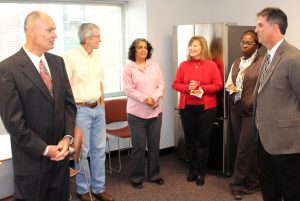 The Department of Chemical and Biological Engineering toasted two of its own prior to the annual University Honors and Awards ceremony. Department alums Dennis (Denny) J. Vaughn (B.S.'70) is the recipient of the Professional Achievement Citation in Engineering (PACE) award; and Matt J. Kipper (B.S. '00, Ph.D. '04) is the recipient of the Professional Progress in Engineering (PPEA) Award. They were honored in a department reception.
Vaughn has long been a supporter of the Department of Chemical and Biological Engineering. Most recently his involvement included serving on the CBE Advisory Council. He retired from Pillsbury Company/General Mills in 2007 as vice president and corporate director of international environment, health and safety/global safety. Since then he has founded two companies: the consulting firm Vaughn Group Services and Frog Fusion, a business that designs and creates fused glass artwork.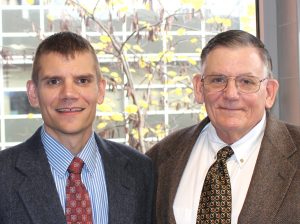 The PACE Award was established in 1968 to recognize superior technical or professional accomplishments in research, development, administration, education, and other engineering activities; the citation recognizes alumni/alumnae eminently known for their professional competence and creativity.
Matt Kipper (B.S.'00, Ph.D.'04) is as associate professor of chemical and biological engineering at Colorado State University, and is an active and accomplished scholar. His research is at the interface of materials and medicine, and his laboratory is pioneering a new class of hyper-functional biomaterials. These materials have the potential for important applications in the biotechnology and tissue engineering fields and could also have major clinical impact.
CBE's Vasta Klima Balloun Chair Dr. Balaji Narasimhan was Kipper's major professor as he pursued his Ph.D. at Iowa State. The PPEA was created to recognize outstanding professional progress, personal development, and distinguished community service by engineering alumni under the age of 46.