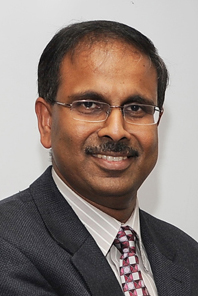 The College of Engineering recently appointed Sri Sritharan as interim assistant dean for strategic initiatives. Sritharan is the Wilkinson Chair in the College of Engineering and a professor of civil, construction and environmental engineering.
In this new role, Sritharan will provide leadership in the area of wind energy and assist the college with strategic planning and growing strategic research areas. He will also serve as a resource to the college's faculty and associate deans.
"Sri will add great value to the college's leadership team," said Sarah Rajala, James L. and Katherine S. Melsa Dean of Engineering. "His commitment to research and academic excellence, along with his experience working collaboratively on a variety of projects will help the college expand its research portfolio and enhance the educational experience for our students."
Sritharan joined Iowa State's CCEE department as an assistant professor in December 1999. He became an associate professor in 2005 and full professor in 2010. He served as the director of graduate education and associate chair for research and graduate affairs for CCEE, and was the faculty lead for the Wind Energy Initiative of the College of Engineering from 2011 to 2014.
His research interests include Earthquake-resistant design and analysis of structures, precast/prestressed structural systems, soil-foundation structure interaction (SFSI), ultra-high performance concrete and special topics in wind engineering and wind energy systems. His research projects have been funded by the National Science Foundation; U.S. Department of Energy; National Oceanic and Atmospheric Administration; U.S. Department of Agriculture; Transportation Research Board; Federal Highway Administration; Department of Transportation in Alaska, California, and Iowa; Iowa Energy Center; non-profit institutions; and private industry.