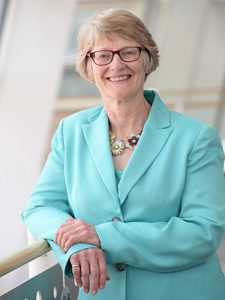 With its majestic limestone facade and grand rotunda, Marston Hall has long symbolized the distinguished reputation of our world-class engineering college. This iconic building reflects our proud history and role in educating future generations of engineers. So it was an honor for me to help officially re-dedicate Marston Hall last month after a two-year renovation project (and even longer if you include all the planning!).
Anson Marston was the father of engineering at Iowa State and served as the first dean. He was instrumental in building Engineering Hall – later renamed to reflect his significant contributions. Our goal was to honor his vision by recapturing and preserving the past – while equipping students to tackle future engineering challenges. I think we succeeded on both accounts!
The event was held Sept. 29 on a beautiful crisp fall day with many guests attending the public ceremony and open house. We were thrilled to have Dean Marston's two granddaughters, great-grandson and great-great-grandson join us!
We have a new Marston Hall website where you can read much more about the renovation project and ceremony, and see many photos past and present.
Also on this day I was very proud to be named the James L. and Katherine S. Melsa Dean of Engineering and receive my medallion during a dinner following the re-dedication. This deanship enables our college to leverage human and financial resources to increase the impact of education, research and engineering programs. It also provides opportunities to support urgent or emerging priorities that may not otherwise be funded. These types of endowed positions make a transformational impact at Iowa State University.
I am so grateful to Jim and Kathy Melsa for their support. As many of you know, Jim earned his bachelor's degree in electrical engineering at Iowa State and also served as engineering dean from 1995 to 2004, while Kathy is an honorary alumna from the university. I am honored to represent the Melsa name and legacy.
Many great things are happening at the Iowa State College of Engineering! Please keep in touch and thank you for everything you do!