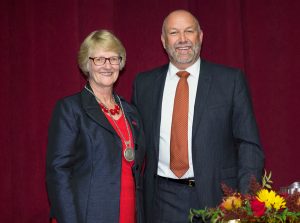 Sarah Rajala, dean of the Iowa State University College of Engineering, has been named the James L. and Katherine S. Melsa Dean of Engineering and received her medallion at a campus ceremony Sept. 29.
This deanship enables the college to leverage human and financial resources to increase the impact of education, research and engineering programs. It also provides opportunities to support urgent or emerging priorities that may not otherwise be funded. These types of endowed positions make a transformational impact at Iowa State University.
Jim Melsa earned his bachelor's degree in electrical engineering at Iowa State in 1960 and also served as the engineering dean from 1995 to 2004. Kathy Melsa is an honorary alumna from the university. When Jim retired, the couple was honored with the creation of the James and Katherine Melsa Professorship in Engineering. And now, with a generous pledge, the Melsa's have helped elevate this position to a deanship.
Rajala joined Iowa State on April 1, 2013 from Mississippi State University where she was dean of the Bagley College of Engineering. Prior to her dean positions, she had a distinguished career as a professor, center director and served in various academic leadership positions. Rajala earned her bachelor's degree from Michigan Technological University and master's and Ph.D. degrees from Rice University.
The Iowa State College of Engineering is one the largest engineering programs in the country offering 12 majors and five minors to more than 9,600 students. The college has the 7th largest undergraduate enrollment in the country and is consistently ranked a top 25 engineering program at public universities.