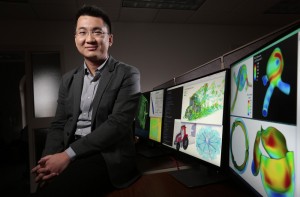 Ming-Chen Hsu, an assistant professor in mechanical engineering, is part of a research team recently awarded more than $2 million from the National Institutes of Health (NIH) to develop computer simulations that improve the durability of bioprosthetic heart valves (BHV).
The new study aims to build on existing research in the field of BHV and develop values that exceed that current durability of 10-15 years. Specifically the study aims to develop computer models that better evaluate biomaterial mechanical behaviors, fatigue, valve design, hemodynamics, and calcification beyond device-level evaluations.
"[D]espite decades of clinical BHV usage and growing popularity, there exists no acceptable method for simulating replacement valve function and durability at both the device and component biomaterial levels. This situation has contributed to the current stagnation in BHV development, limiting rationally developed improvements in prosthetic heart valve durability," the researchers wrote in their grant proposal.
The research team consists of Hsu along with Michael Sacks, the project's primary investigator and a professor of biomedical engineering at the University of Texas-Austin; Tom Hughes, professor of aerospace engineering and engineering mechanics at the University of Texas-Austin; and Keefe Manning, associate professor of biomedical engineering at Penn State University. Hsu will receive about $385,000 of the $2.2 million grant.
Hsu and Sacks have teamed up in the past and have had their work featured on The Next Platform, a publication devoted to "high-end computing at large enterprises, supercomputing centers, hyperscale data centers, and public clouds." Hsu has been studying heart valves since 2012 and formerly worked with Sacks as a post-doc at the Institute for Computational Engineering and Sciences.
AUDIO: "Supercomputers Listen to the Heart" (Ultimate Science Environment at the Texas Advanced Computing Center)