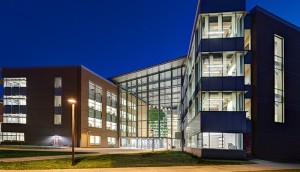 U.S. News & World Report recently released the 2017 "Best Colleges" rankings, and Iowa State University's agricultural and biosystems engineering program was ranked the country's best.
In biological/agricultural engineering, Iowa State is the No. 1 ranked program among all national universities, and 1st among public universities, a tie with Purdue University, West Lafayette, Indiana. The program was ranked No. 2 last year.
Also in the rankings, Iowa State University comes in at No. 51 among the top public national universities, which places Iowa State among the top 27 percent of 189 public universities ranked.
Among public universities' engineering schools whose highest degree is a doctorate, ISU's College of Engineering is tied for 22nd place. Among all national universities, Iowa State's engineering program ranks 37th (a seven-way tie with Arizona State University – Tempe; Case Western Reserve University, Cleveland, Ohio; the University of Florida, Gainesville; University of Notre Dame, Indiana; Vanderbilt University, Nashville, Tennessee; and Yale University, New Haven, Connecticut). Last year, Iowa State was tied for 21st among public programs and in a five-way tie for 36th overall.
In civil engineering, Iowa State is tied for 16th, or 12th among public universities.
In mechanical engineering, Iowa State is tied for 16th, or 9th among public universities.