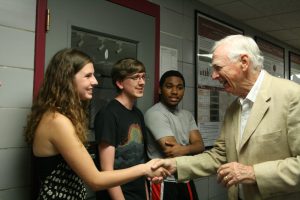 Students, staff and faculty have been making the most of the new Brayton Conference Room since the beginning of the school year.
The room was opened this past summer and is available for anyone in ECpE to use. It includes an overhead projector, smart boards and air-conditioning.
The conference room is named after distinguished alum Bob Brayton. Bob and his wife, Ruth, donated the funds to make the conference room possible and have remained dedicated friends of Iowa State and ECpE since Bob graduated in 1956 with a bachelor's degree in electrical engineering.
During his career, Bob published 10 books and more than 450 papers in the areas of the analysis of nonlinear networks, simulation and optimization of electrical circuits, logic synthesis and formal design verification. Bob is a member of the National Academy of Engineering, a Fellow of the Institute of Electrical and Electronics Engineers, Iowa State Outstanding Alumnus and a winner of the Anson Marston Medal from Iowa State's College of Engineering.
Bob attended the ribbon cutting of the conference room with his family and friends on June 27. Remarks were made by Dr. David C. Jiles on behalf of ECpE and Dr. Gary Mirka on behalf of the College of Engineering. Bob and Ruth also thanked the audience and Iowa State for being such a positive influence on their family.
The new Brayton Conference Room serves students, faculty and staff as a premiere location for presentations and meetings. Its state-of-the-art technology gives the department a modern advantage for communications and gatherings.
For more information on booking the Brayton Conference Room, contact Paula Beckman.