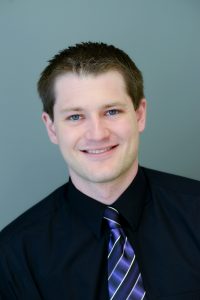 Teaching high school science is usually not a career recent engineering graduates pursue. But for Iowa State alumnus Dan Voss, teaching and engineering has been a perfect fit.
Voss was recently named a member of the 2016 cohort of Teaching Fellows by the Knowles Science Teaching Foundation.
"I have found that my engineering experience has been particularly useful in curriculum design, which has a number of shared features with engineering design," Voss said. "[Teaching] is not for everyone, but if you are passionate about helping young people and a particular content area, it can be a great fit."
An English paper as a high school sophomore first got Voss interested in materials engineering. He found an article describing the work a group of scientists hoping to design materials that mimicked spider silk and found the idea of improving raw materials exciting. He came to Iowa State as a third-generation Cyclone, nervous but excited to pursue engineering.
"I was a little worried that the school was too big," Voss remembers. "A visit to the friendly campus and the materials engineering department made me stop worrying because everyone was so welcoming and friendly."
While a student, Voss worked as a research assistant at the Department of Energy's Ames Laboratory conducting rare earth metals research. He later completed two summer internships with the Donaldson Company evaluating engine air filter media and conducting scrap reduction experiments. It was during these internships that he realized he wanted to do something a little different. He thought that becoming a teacher would allow him to indulge in his own interests in science while also playing a small role in improving scientific literacy throughout the community and the country.
"I enjoyed the work and my colleagues at Donaldson, but I felt so far removed from the people that benefited from my efforts," Voss said. "There are a number of teachers on my mom's side of the family, and I realized that teaching would give the chance to directly work with the people for whom I was trying to make a difference."
Voss graduated from Iowa State in 2013 with his Bachelor of Science degree in materials engineering. Upon graduation, Voss headed for Northwestern University in Evanston, IL. This past spring, he received a Master of Science (secondary teaching: physics) degree.
Shortly before he arrived at Northwestern, two students in his program were named Teaching Fellows by the Knowles Science Teaching Foundation. Voss thought it sounded like a really exciting opportunity and kept it in mind as he pursued his degree and future employment. Since being accepted as part of the 2016 Teaching Fellows cohort, Voss has started planning what he will do with the grant and is excited to see how his teaching career grows.
Voss is one of 34 Teaching Fellows selected for the 2016 class. Fellowships are awarded to early-career, high school mathematics and science teachers. Voss will begin his first year of teaching this fall at Boone High School in Boone, IA teaching chemistry and physics.
The Knowles Science Teaching Foundation provides support and professional development for early career teachers. The Fellows Program provides participants with benefits including a summer stipend, funds for professional development, grants for teaching materials, and mentoring and support from experienced teachers.
Voss is the second ISU College of Engineering student to be named a KSTF fellow, joining mechanical engineering alumnus Joe Cossette.
"It is humbling how much the Knowles Science Teaching Foundation invests in its fellows," Voss said. "What it will really do is give me the opportunity to examine my own teaching practice and get support from experienced people. I will get to keep sharp with conferences and classes, bring in people to observe and evaluate my teaching, and have access to a community of dedicated educators."
Though excited to begin his teaching career, Voss anticipates that his biggest challenges will be in juggling all of the responsibilities of teaching on his own.
"You have to be on the ball at all times in the classroom, and beyond that there are a lot of responsibilities to juggle," Voss said. "It will be exhausting, but well worth it."
Voss is looking forward to meeting his students and becoming a part of the school and the larger Boone community. Voss is a graduate of Benton Community and said that he felt a similar, family-like vibe throughout the interviewing process at Boone. He said he is excited to work with high school students, watching them and helping them come to terms with a suddenly bigger world in front of them.
As an Iowa State grad, he is also very excited to come back to the Ames area.
"I already have season football tickets for next year!" he said.