Study abroad experience broadens perspective for engineering student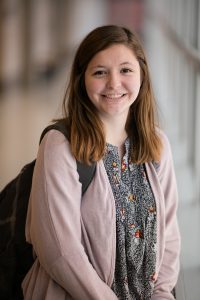 Allie Flessner, an undergraduate in chemical engineering, recently returned from studying abroad in Mannheim, Germany. She's says the trip introduced her to a new culture while also helping her learn more about engineering concepts.
Flessner grew up in Overland Park, Kansas, surrounded by engineering thanks to her father who is an electrical engineer. She was drawn to Iowa State's chemical engineering program for a number of reasons, including the number of women she came across during her visit.
During her time at Iowa State, Flessner has served as a Cyclone Aide for prospective students, helping her become a better leader and communicator. She also worked closely with the engineering student services and the study abroad office, which introduced her to the idea of traveling while she was a student.
Flessner attend the University of Mannheim and studied with 12 other students ranging from freshman to fifth-year students through the Hochschule Mannheim Summer Program. The program  is open to any discipline of engineering and features a design project along with a course to practice speaking German.
Flessner says she especially enjoyed the simulation of productions systems course. In the course, students used a computer program that simulated an automobile factory floor, showing students how to schedule employee shifts, hours and work stations. "The computer simulation was really cool, and it was taught alongside German students, which was a great experience," says Flessner.
She also appreciated experiencing the culture, noting that when she first arrived at the university, the professors took her and her classmates out to dinner and drinks.
"The culture is really different than what I'm used to in the U.S. All the businesses close at 5 p.m. except for the restaurants. And when you go out to eat it's an event – you sit and talk in the restaurants for hours," explains Flessner.
Now that she is back at Iowa State, Flessner is working with Timothy Ellis, a professor in civil, construction, and environmental engineering, analyzing sludge that is runoff from water treatment facilities.
In the future, Flessner plans to try and get a job in the water treatment and purification industry.