When it comes to engineering, Chris Williams knows history tends to lead to Rome.
"Engineering in its infancy started back in B.C." the Gerald and Audrey Olson Professor in Civil Engineering explained. "If you look at Greek and Roman societies, that's how they flourished and grew. It was because of those basic engineering principles."
So to study transportation engineering, Williams and fellow faculty decided to show students Rome first-hand.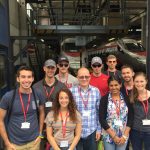 This May, both graduate and undergraduate students of Iowa State University's Department of Civil, Construction and Environmental Engineering (CCEE) spent two weeks learning about the Eternal City's past and present transportation systems. They toured its engineering marvels like the Colosseum and Pantheon. They attended engineering workshops and took in site visits of Rome's newest engineering projects.
Peter Savolainen is an associate professor with the CCEE Department and a researcher at ISU's Institute for Transportation. Through the experience, he says students gain a global perspective.
"It's really been a big emphasis across all areas of engineering," Savolainen said. "Everything's becoming more global. I think it's really important that students get an international perspective."
Grant Albansoder is a civil engineering student with the CCEE Department. Gaining experience while also studying abroad? Albansoder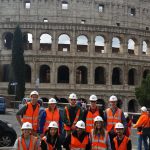 calls that a win-win.
"It's so important for us to go into the field and learn things from first-hand experience," Albansoder said. "So going to a different country and gaining that knowledge is incredibly insightful."
He sees this trip as a choice career-building opportunity.
"I think just going into unfamiliar territory and learning different methods to achieving the same goal is invaluable knowledge in any industry," Albansoder said. "Seeing how they design their roads and their buildings and their bridges and comparing that to ours helps us appreciate their culture as well as our own."
CCEE Department professors started planning the spring study abroad experience last fall. Students taking CE 650: Advanced Topics in Transportation Engineering earn three credit hours.
Visit the CCEE Department's advising office for more information on study abroad opportunities. And keep up-to-date with the latest CCEE Department adventures on Facebook, Twitter, and LinkedIn.