When it comes to energy-efficient buildings, Kristen Cetin looks for a balance between comfort and cost.
"The controls that you can propose might save energy but might not make the occupants feel too comfortable," Cetin said. "If you just turn off the A.C. (air conditioning), yes, you save a lot of energy. But nobody's going to like that."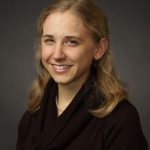 Now, Cetin has earned a grant for developing means of making buildings more comfortable, energy efficient and cost-effective. This month, the Iowa State University Department of Civil, Construction and Environmental Engineering (CCEE) assistant professor learned the American Society of Heating, Refrigerating, and Air-Conditioning Engineers (ASHRAE) has awarded her a grant for her research. Cetin will serve as principal investigator of the project "Effect of Dynamic Shading Devices on Daylighting and Energy Performance of Perimeter Zones."
Cetin will work to develop systems that adapt to glare, heat and lighting levels in office settings. She will also explore how those systems could be controlled automatically. Cetin says researchers will use different types of windows and shades to control lighting and heat transfer during the project.
"The purpose of this is to try to use shading devices and lighting controls to somewhat reduce energy use but not negatively affect the occupants," Cetin said.
The total cost of the project will be approximately $160,000, with ASHRAE contributing slightly more than $112,000. The Iowa Energy Center will also share costs of the project, and two months of experimentation will take place at the center's Energy Resource Station (ERS).
The project starts in September of this year and is slated to last two years. Cetin will work with Ulrike Passe, an associate professor in ISU's College of Design and the director of the Center for Building Energy Research (CBER) at ISU.