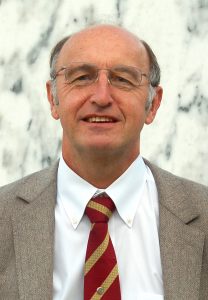 David C. Jiles, Palmer Endowed Chair of the Department of Electrical and Computer Engineering at Iowa State University, is among the new Fellows elected to the Learned Society of Wales in 2016.
LSW Fellows are distinguished men and women from all branches of learning who are prominent figures within their respective academic disciplines or professions. The society's Fellowship brings together the most successful and talented fellows connected with Wales. The society is awaiting its Royal Charter after which it will become the Royal Society of Wales.
Jiles, an Anson Marston Distinguished Professor, was elected to the science, technology, engineering, medicine and mathematics area of LSW. He is widely known for his scientific advancements and engineering applications of magnetics.
Jiles began at Iowa State in 1984. He served from 2005-2010 as director of the Wolfson Centre for Magnetics and professor at Cardiff University in the United Kingdom prior to returning to Iowa State as chair of electrical and computer engineering and the inaugural Palmer Endowed Department Chair in October 2010.
He is a Fellow of the Royal Academy of Engineering (the UK equivalent of our National Academy of Engineering), the Institute of Electrical and Electronics Engineers (IEEE), and the American Physical Society (APS), among other professional and scientific societies. Jiles will serve as a Jefferson Science Fellow for the U.S. State Department beginning in August 2016.
"I feel honored to be elected a new Fellow of the Learned Society of Wales, and I am also rather humbled considering the group of exceptional individuals who are already Fellows," Jiles said.
All the Fellows elected in 2016 will be recognized during an award ceremony and dinner on May 18 held in Cardiff, Wales.