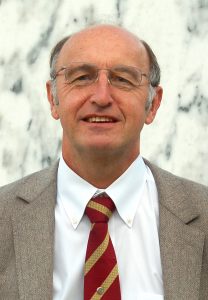 AMES, IA — David C. Jiles, Palmer Endowed Chair of the Department of Electrical and Computer Engineering at Iowa State University, has been selected as a Jefferson Science Fellow as a scientific advisor to the Department of State.
"I feel very honored to represent Iowa State University as a Jefferson Fellow," Jiles said. "I am grateful for the support and encouragement of my colleagues from the ISU community and other colleagues, without which this would not be possible."
Jiles, an Anson Marston Distinguished Professor, will begin his one-year appointment in Washington D.C. in August, 2016. Following his fellowship year, Jiles will return to ECpE as a Distinguished Professor.
The Jefferson Science Fellowship program is administered by the United States National Academies of Sciences, Engineering, and Medicine and is supported through a partnership between the U.S. academic community, professional scientific societies, the U.S. Department of State, and the U.S. Agency for International Development (USAID). The fellowship is open to tenured faculty from institutions of higher learning and was established in 2003 to further build capacity for science, technology and engineering expertise within the U.S. Department of State and USAID.
"I look forward to beginning my appointment next year, and to serving the Department of State and USAID." Jiles said.
Jiles began his appointment as chair of ECpE and inaugural Palmer Endowed Chair on October 1, 2010. He served as director of the Wolfson Centre for Magnetics and a professor at Cardiff University in the United Kingdom prior to his appointment. He is a Fellow of the Royal Academy of Engineering, the Institute for Electrical and Electronics Engineers (IEEE), and the American Physical Society (APS), among others.
Jiles's involvement with the National Academy of Engineering continues a long tradition of ECpE and NAE cooperation. Three former faculty, Paul Anderson, Aziz Fouad, and Vijay Vittal have been elected NAE members.
For more information on the Jefferson Science Fellowship, visit the National Academies Website.