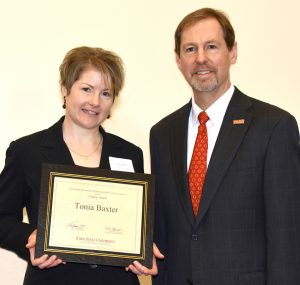 Tonia Baxter, an academic advisor in the Department of Chemical and Biological Engineering, was honored with a CYtation Award from the Iowa State University Professional and Scientific Council in ceremonies March 10.
CYtation Award nominees have performed above and beyond the call of duty, performed a job function extraordinarily well, and have acted in a way that makes a real difference on behalf of Iowa State.
Baxter was nominated by department chair Andrew Hillier for the leadership and spirit she demonstrated when she was thrust into an unforeseen situation immediately after starting her new job with Iowa State in 2015. "Her nomination is based on the outstanding work she did last summer that was clearly above and beyond the call of duty, when a combination of unusual circumstances left her as the only academic advisor in the department and responsible for an advising load that included 790 current students and all of the department's freshman orientation," he stated, adding, "She did it so well that we heard nothing but positive feedback from the incoming students and their parents – she acted in a way that made a real difference to the department and to the university."
In all, 15 individuals and 5 teams from across the University community were presented with Professional and Scientific Council CYtation Awards.
"These individuals are wonderful representations of work that Professional and Scientific employees are engaging in throughout our university," said Professional and Scientific Council President Tera Lawson.