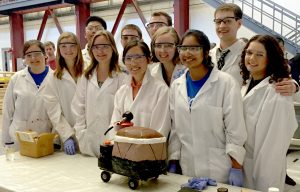 The Iowa State University chapter of the American Institute of Chemical Engineers (AIChE) is headed for the group's annual regional student conference, and donations are being sought to help with this chance to showcase chemical engineering education at Iowa State.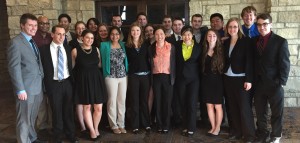 The AIChE chapter is planning to send 35 members to the MidAmerica Regional Conference at Kansas State University April 1-3. Chapter members will join students from other universities to participate in competitions, research exhibitions, professional development activities and networking events.
Conference events include the ChemE Car competition, with teams of students from participating universities building and competing with miniature vehicles powered by, and stopped by, chemical processes. Both a fuel cell car, propelled by an aluminum oxidation process; and an internal combustion engine car, using distilled methanol, will be entered by the ISU teams. Some ISU AIChE members will take part in ChemE Jeopardy, where they will answer questions in topics relating to chemical engineering and STEM fields. Members will also enter the traditional poster competition, where they will showcase undergraduate research they have conducted with department faculty, in subjects ranging from nanomedicine to solar energy.
Individuals or groups may donate funds to help defray costs involved, and have several levels of contribution to choose from – many of which provide recognition for the donor. A FundISU page has been set up through the Iowa State University Foundation and can be found here.
A video highlighting AIChE and its participation in the conference is included on the FundISU page.