The Iowa State AGC student chapter recently received its 10th first-place finish as Outstanding Student Chapter. The award recognizes work the group completed in the Ames community, Tennessee and Nevada. Iowa State AGC worked on a number of projects that included tasks such as roof repair; interior wall framing; insulation and drywall installation; painting; trim work; winter weatherization; handicap ramps; decks; and much more. With 67 students participating in these efforts, the student chapter was able to help more than 10 families in need.
AGC holds multiple field trips a year, usually during Thanksgiving break and spring break. Many of these field trip destinations are in the Midwest and reach as far out as Nevada. The student chapter or "AGCers" have helped hundreds of families over the years, many of whom were devastated by natural disasters such as tornadoes or floods.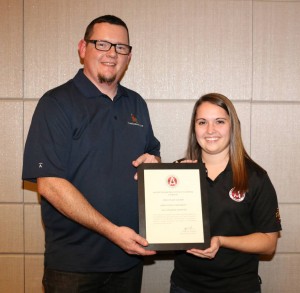 While helping families in need, the student chapter also gains valuable experience in construction methods, leadership, project planning, and embodying the stewardship of the AGC tenets of skill: responsibility and integrity. Amy Salcedo, AGC student chapter president, says, "Each project is a lot of work, but working on a project from beginning to end gives an immense amount of satisfaction."
Winning the 2015 Outstanding Student Chapter of the Year Award is a great honor for all the members and especially last year's cabinet members. "Every member that has participated in community service has made a huge impact on people's lives, and this is something we are all proud of," Salcedo states. "Winning this award is a testament to the hard work and dedication of all our members and everything we accomplished last year."
Statistics of projects performed by the student chapter in 2014/2015:
Total service hours last year: 3,350 hours for both local and service trip projects.
2014 Thanksgiving trip:
4 handicap ramps

Winter weatherization

2 roof repairs

Drywall

Several other home repair projects
Spring Break 2015:
Re-roofed 1 house

Installed new floor throughout 1 house

Completely framed, sided and roofed two new construction homes