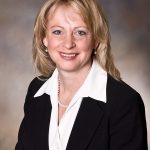 Gayle Roberts, president and CEO of Stanley Consultant group, is working hard as a leader and role model for young women looking to pursue engineering. Roberts, who leads a major company in a field that is only comprised of 10-15% women, graduated from Iowa State with a B.S. in chemical engineering in 1981. She began as a home economics major, because she didn't have any role models for girls in science and engineering, but thought more about her passion for math and began a degree in engineering.
Roberts gave a talk on February 25 in honor of "Introduce a Girl to Engineering Day". "Talking to these girls is so much fun," she said. "They ask great questions and we just talk about how to solve problems." Roberts is proud to be a role model for girls interested in STEM and says she tells girls who are considering a STEM career that "there is no glass ceiling, they can reach the top."
To read the full story by Joel Kraushaar for Voices of Muscatine, click here.