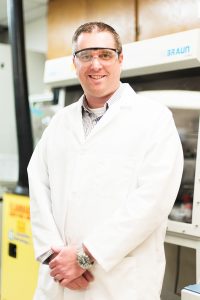 Dr. Christopher J. Ellison, associate professor of chemical engineering at The University of Texas at Austin, was named the recipient of the 2016 Norman Hackerman Award. Ellison, who has been a professor at UT for nearly eight years, graduated from Iowa State in 2000 with a B.S. in chemical engineering before going on to earn his Ph.D. in chemical engineering at Northwestern University. This award comes from The Welch Foundation, one of the nation's largest sources of private funding for basic research.
"I've had a Welch Foundation research grant for most of my time at UT, and much of my work would never have been possible without their funding," said Ellison. He and his team have made a number of important discoveries, most of which blend chemistry and engineering, including a 'green' fiber manufacturing process that doesn't require the use of heat energy or organic solvents. Perhaps the most famous result of Ellison's work has been the production of safer flame-retardants for manufactured materials like foam in couches and mattresses.
To read the full story from the McKetta Department of Chemical Engineering at The University of Texas at Austin, click here.