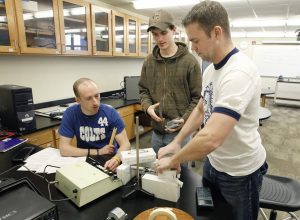 On February 25th, Iowa State and the University of Northern Iowa signed an agreement that will allow students to complete a physics degree in three years at the University of Northern Iowa before transferring to Iowa State for two final years to complete an engineering degree. This program, called a "3+2″option, will allow students to graduate with a Bachelor of Science degree in physics from UNI and a Bachelor of Science degree in engineering from Iowa State.
Jonathan Wickert, senior vice president and provost for Iowa State, said the partnership program was formed as a result of both student demand and faculty discussion between the two schools. The institutions say this presents an opportunity for students from smaller Iowa high schools to experience the smaller campus of UNI for a few years before transitioning to the much larger campus at Iowa State.
"We believe this is a win for both schools," said ISU President Leath during a Board of Regents meeting. "More importantly, it's a big win for the students."
To read the full story by Vanessa Miller for The Gazette, click here.