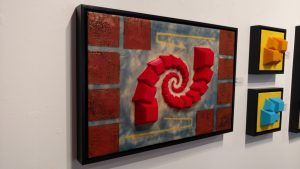 After retiring from 33 years with Shell in Houston, Joel Anderson started looking into art. Originally interested in woodworking, videos on Jon Peter's Youtube channel of Peter working with encaustic (a wax-based paint made of beeswax, resin and pigment) caused Anderson to start looking at a new medium.
Anderson graduated from Iowa State in 1981 with a degree in computer engineering. When he creates art, he works to incorporate digital elements into his pieces as a nod to his career in information technology. "Throughout my IT career my need to create art had burst through a few times–woodworking crafts, stained glass, acrylic paintings–but it seemed the 'job' always managed to eventually stifle the art," Anderson said. "So when I finally retired I was able to let the creative side finally flourish."
To read the full story from The Leader, click here.