Story originally published by The Ames Laboratory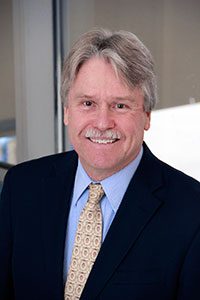 AMES, IA  – U.S. Department of Energy's Ames Laboratory senior metallurgist and Iowa State University adjunct professor in materials science and engineering Iver Anderson has been named a Fellow of the National Academy of Inventors (NAI).
The NAI Fellows Selection Committee credited Anderson for demonstrating a "highly prolific spirit of innovation in creating or facilitating outstanding inventions that have made tangible impact on quality of life, economic development, and welfare of society."
"I am honored to have been recognized as an NAI Fellow," said Anderson, "This award is an outstanding endorsement of contributions academic inventors like me make to research and, in particular, research that can make a lasting impact on society."
Anderson is best known for his co-invention of lead-free solder, an alloy of tin, silver and copper, used globally as a replacement for lead-based solders that can pollute soil and groundwater.  The lead-free solder patent is the top-earning patent for Ames Laboratory, Iowa State University (Ames Laboratory's contractor), and Sandia National Laboratory.  It has generated approximately $60 million in royalty income throughout the life of the patent, which expired in 2013.   At its peak, more than 50 companies in 13 countries licensed the invention.
In addition to lead-free solder, Anderson has used gas-atomization technology he and his colleagues developed to produce fine, spherical titanium powder for additive manufacturing and metal injection molding of aerospace, medical, and industrial parts.   A spinoff company, Iowa Powder Atomization Technologies, was created in 2012 to exclusively license Ames Laboratory's titanium atomization patents.  In 2014, IPAT was acquired by Praxair, a Fortune 250 company and one of the world's largest producers of gases and powder-based surface coatings.
Anderson will join the NAI Fellows named in 2015 for an induction ceremony on April 15, 2016, at the U.S. Patent and Trademark Office.  Fellows will be presented with a special trophy, a medal and Rosetta pin.  The induction ceremony will be part of the Fifth Annual Conference of the National Academy of Inventors in Washington, D.C.
"Iver has dedicated his career to conducting outstanding research, and his commitment to excellence has paid off through the awarding of this Fellow recognition," said Ames Laboratory Director Adam Schwartz.  "He has accomplished much, and we fully expect his list of inventions to grow further in the years ahead."
This work was supported at Ames Laboratory by the Department of Energy's Office of Science (Office of Basic Energy Sciences and Office of Environmental Management).  Additional funding was received from the Iowa State University Research Foundation and Nihon Superior.
Ames Laboratory is a U.S. Department of Energy Office of Science national laboratory operated by Iowa State University. Ames Laboratory creates innovative materials, technologies and energy solutions. We use our expertise, unique capabilities and interdisciplinary collaborations to solve global problems.
DOE's Office of Science is the single largest supporter of basic research in the physical sciences in the United States, and is working to address some of the most pressing challenges of our time. For more information, please visit science.energy.gov.