Great-great-grandson of Ans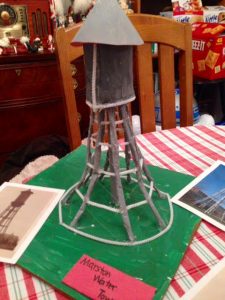 on Marston gets a family history lesson from a school project
When Nicholas Barney, an enthusiastic 3rd grader from Springfield, Virginia, was given an assignment to do a year-long project on a state of his choice, he knew he'd pick Iowa. Twenty years of research into family history that his mom, Lisa Barney, had done encouraged Nicholas to learn more about the state where his great great grandfather, Anson Marston, left an impressive legacy.
Marston, for whom the Marston Water Tower and Marston Hall were named, was a professor, head of department and dean at Iowa State. He is credited with transforming the College of Engineering into the successful and high-achieving program it is today. In addition to his role as an educator, Marston designed the Iowa State College sewage disposal system, and helped to supervise the building of the Campanile on Iowa State's campus.
Parts of Marston's history stood out more than others to Nicholas. "He had a long mustache and was nicknamed 'old handlebars,'" he recalled.
Nicholas constructed a replica of the Marston Water Tower for a part of his project to represent the state of Iowa. He said he looked at different pictures of the water tower for inspiration, then started construction. "I made the tower out of cardboard, pipe cleaners, masking tape, clay and fishing line," Nicholas said. "It was really fun to make." Although Nicholas doesn't know what he wants to do when he grows up, he says he really likes math, science, and building and designing things.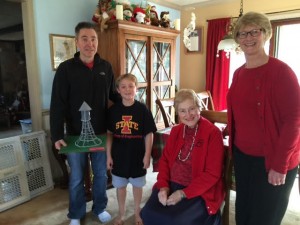 Nicholas has never been to Iowa, but he may have some motivation to do so in the future. A trip at the end of December brought College of Engineering Dean Sarah Rajala to the Barney home, where she presented Nicholas with a scholarship for engineering at Iowa State. Rajala also took time to visit with Nicholas, his father Anson Barney, his mother Lisa, and his grandmother Alice Marston Barney.
Alice, Anson Marston's granddaughter, attended Iowa State for part of her education to study mathematics before moving to the University of Minnesota to finish her degree. "I lived in the dorms, and anytime the dorms were closed for break, I remember staying at my grandparents house, which was a fairly large house on campus," Alice said.
Though the Barney family isn't able to walk by the Marston landmarks every day like so many students at Iowa State, the stories they have of Anson Marston keep their Iowa State connection strong. The family plans to make a trip to Ames to attend the re-dedication of Marston Hall when it is completed this fall.