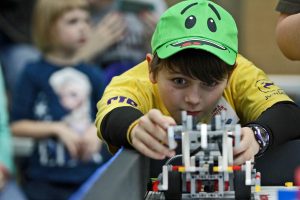 This story was originally published with the Iowa State News Service. 
In nearly every Iowa county, teams of 9- to 14-year-olds have been talking trash.
How is it collected, transported and sorted? What can be salvaged, recycled or repurposed? What are some of the problems with the ways we dispose of things? What's a solution to one of those problems?
The trashy questions and answers have been sparked by the annual FIRSTLEGO® League competition. This year's theme, "Trash Trek," is challenging teams of up to 10 students to think like engineers and scientists working to solve the world's trash problems. Part of the challenge is to build and program a LEGO® robot capable of accomplishing simulated missions such as recycling materials, restoring an old car and composting waste.
Teams from across the state will compete in the Iowa FIRST LEGO® League Championship on Saturday and Sunday, Jan. 16 and 17, at Iowa State University's College of Engineering. For the first time, the state championship will extend over two days so more teams can participate.
The championship is free and open to the public. Here are a few schedule highlights – the schedule is the same for both days:
Opening ceremonies are at 9 a.m. in the Howe Hall atrium.
Teams compete with their robots and go before judges from 9:30 a.m. to 2:15 p.m. in the Howe Hall atrium and in Hoover Hall.
A second group of teams competing for a Global Innovation Award will present their research from 1 to 3:20 p.m. in the Biorenewables Complex atrium.
Junior FIRST LEGO® League teams of 6- to 9-year-olds will display their work from 9:30 a.m. to noon in the Biorenewables Complex atrium.
Closing ceremonies can be viewed at 3:30 p.m. in the auditoriums of Howe and Hoover halls.
A live webcast of the championship will be here.
If you attend or watch online, be prepared for incredible displays of energy and color. Teams cheer. Teams wear matching shirts and silly hats. Teams are very excited to be at the state championship. And now there are more of them than ever.
"We have so many teams in this state that are part of our 19 regional qualifying tournaments, we needed to advance a higher percentage of teams to the state championship," said Camille Sloan Schroeder, the K-12 community outreach manager for the College of Engineering and director of Iowa FIRST LEGO® League. "The only way to do that was to do two championship events."
Last year's state championship brought 72 teams to Ames. This year it will be 120 teams – 60 on Saturday and 60 on Sunday.
The winning teams will qualify for more advanced competition, including international contests.
"We're excited about the championship," Schroeder said. "We have FIRSTLEGO® League teams in almost every county, so we've been adding regional events and now we've expanded the state championship. There's a huge demand for these events."
That's good news for the future of science, technology, engineering and math in Iowa.
"We just really want these teams to understand that science and math have an important place in their lives and our world," Schroeder said. "They're important subjects to their futures. And there's so much cool and fun stuff to explore in science and math."
Besides, she said, it's awesome to meet 6-year-olds who want to be engineers.
—
This year's Iowa FIRST LEGO® League sponsors are the Iowa State College of Engineering, John Deere and Rockwell Collins. FIRST LEGO® League is the creation of FIRST, a nonprofit organization based in New Hampshire dedicated to inspiring young people to explore science and technology, and the LEGO® Group, the Denmark-based toy manufacturer.