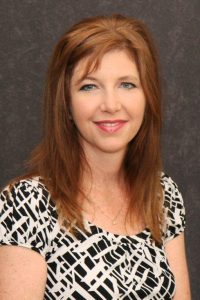 Each year, the Technology Association of Iowa celebrates and recognizes women who are innovators and leaders in science, technology, engineering and math. Camille Sloan Schroeder, who oversees the College of Engineering's community outreach programs, was among the finalists for the Women of Innovation Award in the Diversity Champion category.
Schroeder pushes for more representation of women and minorities in the STEM fields through K-12 engineering outreach. She believes one of the best ways to attract the underrepresented populations is to introduce them to STEM at a young age. "Many young students may not know a lot about engineering. They don't understand what engineers do, like they would a doctor or police officer, yet engineering impacts everything around them," Schroeder explains. "My goal is to open their eyes and minds to the vast possibilities of the STEM field for their futures."
To accomplish this, Schroeder has been heavily involved in FIRST LEGO League (FLL), where teams must research a real-world problem and are challenged to develop solutions, as well as design and program fully autonomous robots using LEGO MINDSTORMS® technology. As operational partner for the state, she directs more than twenty related events including the annual FLL State Championships in Ames. This year's championship events will host 120 teams with approximately 5,000 attendees on January 16 and 17, 2016.
Schroeder has also served as the co-affiliate director for Project Lead the Way since 2005. In this role, she reaches more than 30,000 Iowa students, including 11,000 women. She facilitates important partnerships with John Deere, Quad City Engineering and Science Council, as well as the Putnam Museum and Science Center of Iowa, which furthers her reach to younger generations.
While she pushes for all students to explore STEM, Schroeder takes pride in her efforts to encourage women in STEM fields. "There's no reason in today's world that there should be such a disparity in men and women within the STEM fields," she says. "We need to be using language and tools that help young women realize they have the skills and capacity to succeed in these fields. We need to be building their self-efficacy. It's a challenge that requires effort from everyone – men, women, teachers and families."