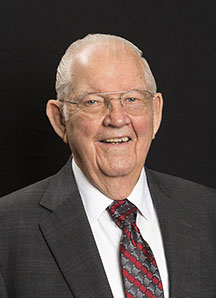 Mr. Eugene G. Sukup is founder of Sukup Manufacturing Co., the largest family-owned, full-line grain drying and storage equipment manufacturer. As an entrepreneur and civic-minded philanthropist, he has made many groundbreaking contributions to state, national and global agriculture.
Mr. Sukup and his wife, Mary, established Sukup Manufacturing Co. in 1963 with its first product, the Stirway stirring auger, which allowed farmers to rapidly dry a deep bed of wet corn to enable storage without spoilage, resulting in increased productivity and profitability. Their two sons, Charles and Steve, joined the company after graduating from Iowa State University. Charles holds a Master's Degree in Agricultural Engineering and Steve holds a Bachelor's Degree in Industrial Engineering. Today the Sukup Manufacturing Co. product line includes on-farm and commercial grain bins, portable and tower dryers, a full line of accessories to properly dry and store grain, a line of material handling equipment, as well as a complete line of farm and commercial steel buildings.
Over the past 50 years, Mr. Sukup and his company have amassed more than 80 U.S. patents, and Mr. Sukup's technical ingenuity has evolved from solving basic food grain production problems to helping feed and house people around the globe. One of the company's newest innovations, the Sukup Safe T Home®, is an ingenious application of the Sukup grain bin technology adapted to sustain hurricane-force winds. The homes have been shipped across the globe to countries including Haiti, the Philippines, and Kenya.
Sukup Manufacturing Co., headquartered in Sheffield, Iowa, covers 1,000,000 sq. ft. of office, manufacturing, and warehouse space, and employs more than 550 people, making it one of the largest employers in North-Central Iowa. In addition, the company has distribution centers in six states and boasts sales in every state and more than 80 countries.
Over the years, Mr. Sukup has earned a number of accolades for his work. In 2006, he was inducted into the Iowa Inventors Hall of Farm. The following year he received the Outstanding Innovation Award by the American Society of Agricultural and Biological Engineers. In 2011, he received the Iowa State University Honorary Alumni Award and was inducted into the Iowa Business Hall of Fame. In 2014, Mr. Sukup was voted to become a member of Tau Beta Pi as an Eminent Engineer, and he was named a 2015 Legend in Manufacturing by Elevate Advanced Manufacturing, a program of the Iowa Association of Business and Industry.