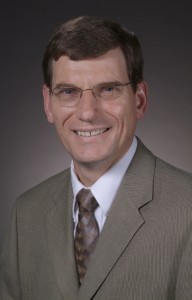 Researchers in the College of Engineering work to create a low-cost, safe and efficient sodium-based battery
While lithium-ion batteries have proven their worth in storing energy on a smaller scale, Steve W. Martin says an alternative solution is necessary for storing large amounts of energy, like the gigawatts of wind energy now being harvested from Iowa's farmland.
That's why Martin, Anson Marston Distinguished Professor in Engineering in the Department of Materials Science and Engineering, and his research group at Iowa State have teamed up with collaborators at the University of Houston, University of Colorado at Boulder, Washington State University, and small battery company Solid Power to develop an all-solid-state sodium battery.
"When we look at ways to efficiently store energy from wind and solar sources, lithium-based batteries are expensive and world-wide geological resources of lithium are actually quite limited," he explains. "A sodium-based battery, on the other hand, has the potential to store larger amounts of electrical energy at a significantly lower cost. And, nearly all countries have access to large amounts of sodium."
The batteries he and his research team are developing will improve upon sodium-based batteries that are currently commercially available, as these have to operate at elevated temperatures. Instead, Martin wants to create a sodium battery that operates at room temperature and uses a safer and more energy dense all-solid-state design.
Martin explains that sodium batteries today use liquid sodium metal that is very dangerous and difficult (and very expensive) to handle. By shifting the operating temperature down to room temperature, he says this will allow for a longer lasting and considerably safer battery. The lower operating temperature should also result in a 20 percent improvement in energy density over state-of-the-art lithium-ion cells.
To develop this new kind of all-solid-state sodium battery, Martin recently received $3 million in funding from the U.S. Department of Energy's Advanced Research Projects Agency-Energy (ARPA-E) OPEN 2015 program. The program serves as an open call to scientists and engineers for transformational technologies outside the scope of ARPA-E's existing focused programs. Through both open and focused solicitations, ARPA-E funds technologies that display technical promise and commercial impact but are too early for private-sector investment.
"The funding from ARPA-E will help us change the way sodium batteries operate," Martin says.
Unlike lithium batteries that use a flammable organic liquid electrolyte that can result in fires, Martin's new battery will use all solids in its construction—a solid anode (the electron source), a solid electrolyte separator that keeps the anode and cathode (the electron sink) from reacting directly, and a solid cathode. This construction will eliminate all of the flammable and reactive materials from the battery and make it safer.
The research teams will each add their own expertise to the project. Martin's group at Iowa State will be developing the new solid electrolyte separator. The team at the University of Houston, which is lead by Professor Yan Yao, will create the new cathode for the battery. Professor Sehee Lee's group at the University of Colorado at Boulder will develop the new anode for the battery. Professors Scott Beckman and Soumik Banerjee lead a team at Washington State University that will use theoretical modelling techniques to optimize the construction and operation of the assembled battery. Finally, Solid Power, led by Dr. Josh Buettner-Garrett, will oversee the commercialization of the completed battery.
While this design has been known for a long time, Martin says it has yet to make it to the market place. And, he would know. He started his Ph.D. at Purdue almost 40 years ago with the dream to make an all-solid-state sodium battery.
"One of the critical problems that has kept this new type of battery on the drawing board for so long has been the slow rate at which the solid separator can transport Na+ ions across the battery," he explains.
Over the years, Martin and his team of students have been focused on this critical problem, and with breakthroughs now at hand, the group is able to apply these new solid separators to his long sought all-solid-state battery.
"This is truly a dream come true project. I have long worked on this solid separator problem, and now to be a part of the team to make the critical breakthroughs that will enable this new all-solid-state sodium battery is really satisfying," he says.
Martin's team is one of only a handful of research groups around the world working on these high-performance solid separators, and his nearly 30-year research program at ISU has been solely focused on this problem.
"It is gratifying to know the Department of Energy has found our research direction as one of the key new areas it sees as important to developing new technologies for electrical energy storage," Martin says.
He adds that this acknowledgement makes the long, and at times lonely, struggle to develop these materials especially rewarding.