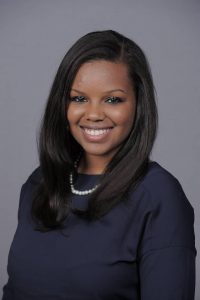 Civil engineering graduate student focuses on developing safer roadways for safer travel
Iftin Thompson recently earned the L.L. Waters scholarship, an honor that recognizes her as a student with high potential in logistics and transportation.
Thompson, a graduate student in civil engineering who grew up in the suburbs of Washington D.C., came to Iowa State to pursue civil engineering with a focus on transportation. She says her fascination with transportation started at an early age.
"I would always take the D.C. metro and ask my mom weird questions like, 'How do they know what lines to make?' or 'How do they know how to pay?'"
As an undergraduate student, Thompson attended Morgan Sate University, where she found her niche in transportation engineering. She then came to Iowa State to continue to grow in the field.
When she came to Iowa, she found there are differences in how transportation programs operate from state to state.
"Computer programs and terminology are different here in Iowa than they are in Maryland," she explains.
And so, she has been learning a lot and says Iowa State University has been a good environment in which to do so.
Thompson's research is conducted at InTrans (the Institute for Transportation at Iowa State University) and is performed under Peter Savolainen, associate professor of civil, construction and environmental engineering. The research involves highway safety and access management, including improvement of safety and management of access points.
"For example, if you're driving along a road and you see a driveway, that is an access point. How do you manage it? What type of turning movements related to the driveway affect crash rates? How can it be improved?" she explains.
Thompson says receiving the L.L. Waters scholarship was an honor and the award helped confirm she was headed in the right direction.
While she's still deciding what the future will hold, Thompson says she plans to continue to learn. Whether that learning comes from earning a Ph.D. or entering the workforce is still up for debate.