An electrical engineering student is serving as a role model for students interested in engineering.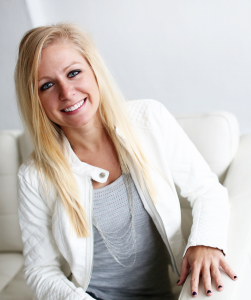 Growing up in northeast Iowa, Brittany Duffy, a senior in electrical engineering, is about to embark on the next part of her adventure as a chip integration engineer with IBM.
Duffy says she did not always imagine herself as an engineer. Instead, she thought business was going to be in her future because such a degree opens a wide range of opportunities.
Some encouragement from her parents to look for a program that accompanied her enjoyment of math, science and technology led Duffy to the electrical and computer engineering program at Iowa State. That's where she realized she liked a more hands-on approach to working with computers, so electrical engineering provided the perfect fit.
Throughout her undergraduate work, Duffy has created an impressive record of accomplishments and involvement on campus, including being active in WiSE (Women in Science and Engineering) and Digital Women.
In WiSE, she peer mentored more than 50 undergraduate women as well as taught a professional development course. She has also served as a student role model for students in K-12. Duffy gave hands-on experience to students interested in the field by helping out in different "workshop-like" stations that gave an inside view into the STEM field. Duffy also was a keynote speaker for the "Road Less Traveled" program, giving a speech to three groups of 300 8th through 10th graders interested in STEM.
As a member of Digital Women, a club offered through the Department of Electrical and Computer Engineering that helps support women in their technical studies, she held the position of industry relations chair. Duffy spent last summer emailing a number of companies to see if they had interest in sponsoring 10 women to attend the Grace Hopper Conference, the largest women's tech conference in the world. Garnering the support of a multitude of companies, Duffy was able to raise more than $10,000 for Digital Women.
Additionally, Duffy has been in Freshman Leaders in Engineering, Cardinal Key honor society, Eta Kappa Nu (IEEE honor society), and the National Society for Leadership and Success.
She believes being successful in engineering starts with not getting overwhelmed. She encourages fellow students to reach out and get to know professors or teaching assistants.
"When you're struggling in the classroom, getting some extra help from these connections makes you feel less stressed in the end."
She adds that frequently visiting advisors helps students find their own path in college, including learning about unique opportunities that may not be well known.