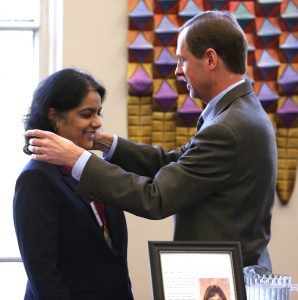 Dr. Surya Mallapragada has been recognized as the inaugural Carol Vohs Johnson Chair ("Carol's Chair") in Chemical and Biological Engineering. Donor Jack R. Johnson and Dr. Mallapragada were joined in a ceremony by Iowa State University Senior Vice President and Provost Jonathan A. Wickert; Sarah Rajala, Dean of the College of Engineering; CBE department faculty and staff; and friends and family members.
The honor is made possible by an endowment gift from Jack R. Johnson in memory of his wife, Carol Vohs Johnson, who received a B.S. in Chemical Engineering from Iowa State in 1980. Carol passed away in 2014, a victim of cancer. She met Jack (B.S., Computer Engineering, 1981) in a math class while they were enrolled at Iowa State as undergraduates. Both became very connected to the College of Engineering, and considered it to be part of their family for life. "Carol's Chair," as the endowment is to be known, celebrates her life and legacy. Jack Johnson worked most recently as a Platform Architecture Engineer at Intel Americas, Inc. Carol had worked most recently as a Business Analyst for Intel Americas. She spent 20 years working for Monsanto and received the Professional Progress in Engineering (PPEA) Award from Iowa State in 1992.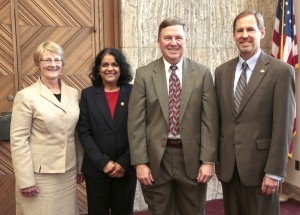 "This just felt like the right thing to do," said Jack Johnson in making the decision about the endowment, which he and Carol discussed prior to her death. "And to be able to do it now is important," he said, "because I will be able to see the benefits, and it will be rewarding to see the impact it will have."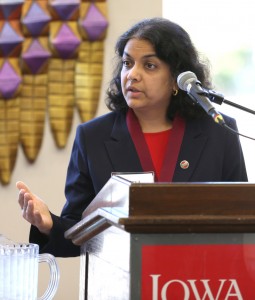 "It is an incredible honor for me to be associated with Carol Vohs Johnson's name through this wonderful chair that Jack Johnson has created," said Dr. Mallapragada. "Carol was a pioneer, going into a discipline where there were not many women. Today, chemical engineering is a welcoming and highly diversified discipline with one of the highest percentages of women in engineering, thanks to trailblazers like Carol." Dr. Mallapragada said funds from Carol's Chair will be used in many ways, including advancing her research in technologies to develop novel therapies in fighting cancer and infectious diseases through immunotherapy. "These funds will also be used to recruit high quality students, especially women, to work in my laboratories," she stated. "It will provide an even stronger impetus for me to inspire more women to follow in Carol's footsteps and to have the kind of impact that she had in her profession. Holding this chair will continue to remind me every day of the responsibility and honor I have in representing everything Carol stood for."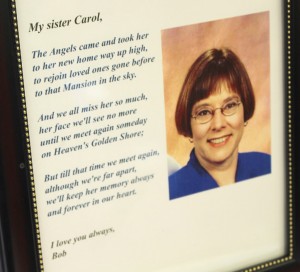 "Endowed professors like Surya are key to our academic excellence. They are critically important to our students, their futures, and to Iowa's economy," said Provost Wickert. "The title of Carol Vohs Johnson Chair in Chemical and Biological Engineering is a mark of distinction, and an endorsement of Dr. Mallapragada's outstanding academic credentials."
Mallapragada has been a faculty member at Iowa State University since 1996 and also serves as a professor in the Department of Materials Science and Engineering. Collaborative work involves the colleges of Agriculture and Life Sciences, Veterinary Medicine, and Liberal Arts and Sciences; the U.S. Department of Energy Ames Laboratory; and other institutions both across the nation and worldwide.
Previous giving from the Johnsons created the Jack R. and Carol A. Johnson Engineering Fund for Academic Excellence (to support innovative ways that technology can be incorporated in the learning environment) and the Jack R. and Carol A. Johnson Faculty Fellowship in Chemical and Biological Engineering. The current and inaugural holder of that fellowship is Dr. Jean-Philippe Tessonnier.